We need a new bathmat. I threw out the purchased one because it was dirty and unwashable, and now we're using a terrycloth one I made for my husband in his previous apartment – which had a tiny bathroom, and hence the bathmat is tiny. Of course I long ago planned to make a new bathmat. Where do we stand now?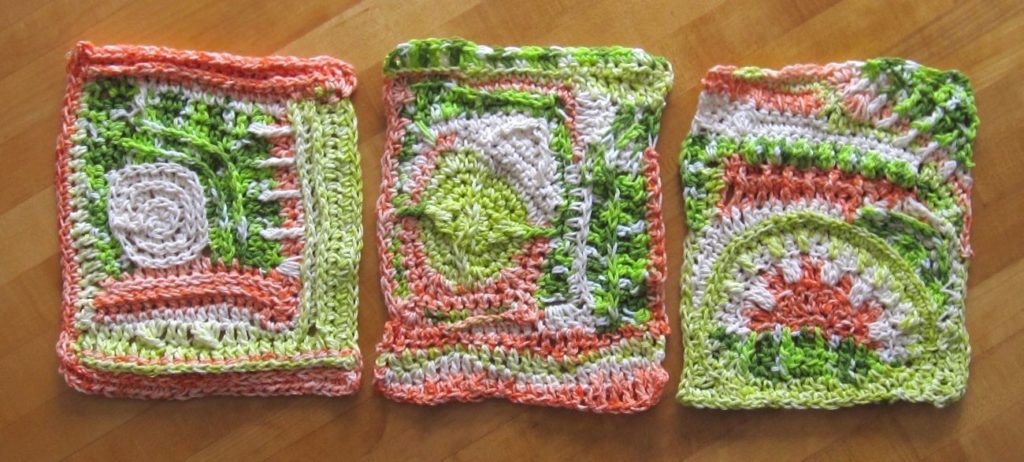 (No pun intended.) Three crocheted panels out of cotton yarn, to be joined with broad strips into a large rectangle, backed with another layer for thickness, and bordered all around to finish. They are in order of creation, left to right.
I had a few ideas that would have made a patterned mat, stripes and ridges and so forth, but when I tried them out I didn't really care for them. Then I made the little cream-colored square with the spiral ridge, and thought, why not freeform?
I'm not sure I'd really done any freeform crochet before this. It was an interesting challenge. My thought with the first panel was to add L-shaped regions around the starting square until it became whole-bath-mat-sized, but that became boring and I struck out in a new direction for fun. With the later panels the challenge was thinking of things to do that were different. When truly stuck I would try to come up with the most disruptive thing I could do, in terms of the flow of stitching. Then trying to smooth things out again would prompt creative crochet.
Oh, and incidentally, I way overbought for this project. I looked at bathmat patterns on Ravelry to see how much yarn they typically used, and ended up purchasing 5 skeins of the cream and 3 of each of the three other colors. The three panels pictured took far less than a single skein of each!