At long last I finally made honest-to-goodness rainbow soap. I layered yellow, orange, and "red" (the color blocks were called "Santa Claus Red" but as you'll see they only managed pink) in one of the containers my melt-and-pour soap came in, tilting it one way and then the other for the first two layers. Once that was solid I sliced it up and embedded it in purple, blue, and green layers of soap in my 12-bar mold.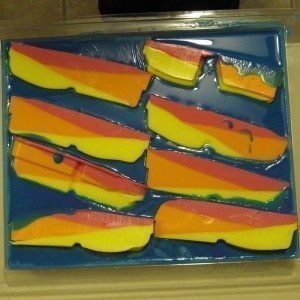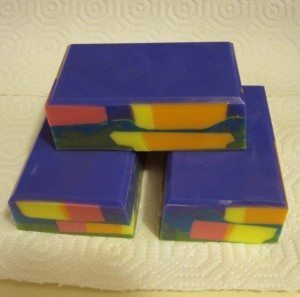 The warm colors were "Ultra White" soap and the cool colors were mango butter soap. To use up more of my years-old soapmaking supplies I made a second dozen bars simply by swirling oatmeal and cocoa butter soaps together in the mold. That went less than smoothly, though – the cocoa butter soap had a low melting point, and after ten or fifteen minutes I went to put the mold in the freezer and instead splashed liquid soap across the rainbow bars (the three pictured are the only ones that were unscathed) and kitchen floor. Grr.
The bars aren't too diminished in size, though. And at least what I got on the rainbow soap was just more soap.
Incidentally I had a problem with my caching plugin setup that likely kept everyone from seeing the new pattern and tutorial catalog onsite when I posted about it. I've fixed it, so please check it out and let me know what you think!