Spoiler: the answer is at the bottom of this post.
Looking at my Dashboard, I saw someone had found my blog by searching "modified half double crochet." I wondered what they might have intended, so I searched that phrase myself, with Google. The top result (and the only one on the first page that didn't take the phrase apart) was a video by Zuliblu Crafts on crocheting an infinity scarf. The modification to half double crochet is that the loop that you pull up through the previous stitch also gets pulled through the yarn-over, and the last yarn-over is pulled through the two loops remaining on the hook. You could think of it as the yarn-over getting slip stitched down before the completion of the stitch.
To wit: YO, insert hk in next st; pull up a lp (3 lps on hk), pull 1st lp on hk through 2nd lp on hk (2 lps on hk). YO, pull through both lps on hk.
This is not half double crochet and my first reaction was, "that's extended single crochet!" – but clearly not, since esc does not start with a yarn over. Extended single crochet, for a reminder, is sort of single crochet stacked on a chain.
Extended single crochet (esc): Insert hk in next st and pull up a lp (2 lps on hk). YO, pull through 1 lp on hk (2 lps on hk). YO, pull through both lps on hk.
And as another reminder, half double crochet (hdc): YO, insert hk in next st; pull up a lp (3 lps on hk). YO, pull through all 3 lps on hk.
I made swatches of all three stitches to compare, since they are relatives. I used three colors of Red Heart Soft; not every color has the same feel (I'm looking at you, Guacamole), but these do. Each swatch is 25 stitches by 15 rows, with 2 turning chains that do not count as a stitch. I figured that should be large enough for size differences to make themselves known.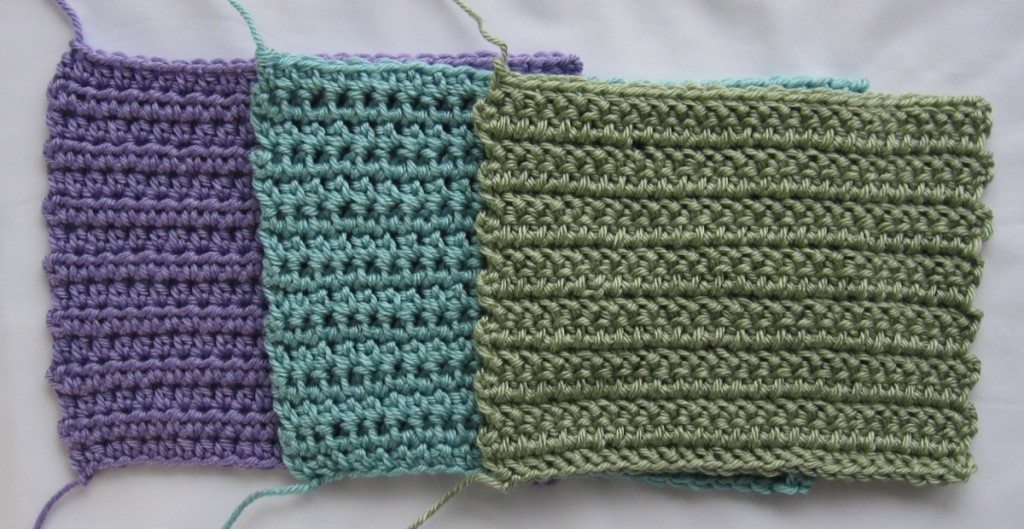 The first one, purple, is old familiar half double crochet. The second, blue, is extended single crochet, which looked a mess to me while it was in progress but is more appealing now that I step back and look at the whole swatch. The third one, green, is the modified half double crochet. It took some getting used to; pulling the loop through the yarn over is a little awkward, but got easier with practice.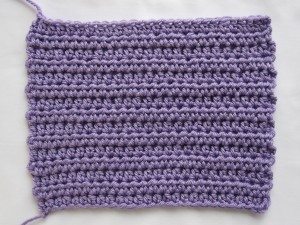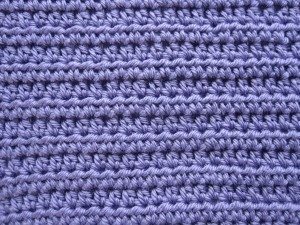 The half double crochet swatch is 6.5″ by 8.15″ and weighs 0.8 ounces. It is the stiffest of the three.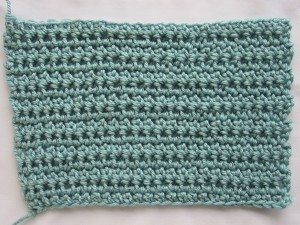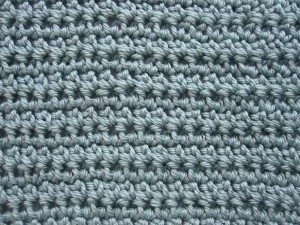 The extended single crochet swatch is 6 3/8″ by 9″ and weighs 0.85 ounces. It is the largest, though more so by size than by weight, and I have no idea why it is so wide. It is also the softest of the three, which should be no surprise given the measurements. It's really quite airy.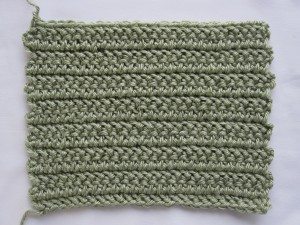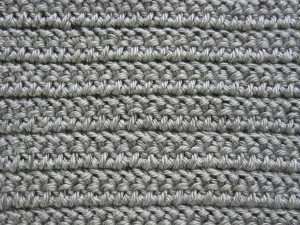 The modified half double crochet swatch is 6″ by 7.75″ and weighs 0.8 ounces. It is decidedly smallest in size, but weighs just as much as the half double crochet swatch. Slip stitching the yarn over to the previous row apparently compactifies without using any less yarn. This is much less lacy than esc, but nearly as soft. I agree with Zuliblu Crafts that it is a good scarf stitch.
The first time I looked at the video the comments didn't load. The next time they did, and someone said the stitch was called "counterpane stitch." Well, the only sources I could find for that are modern and poorly cited: one that says simply "I found it in an old book" and one that uses very old fashioned terms but gives no source for their text. Then there is the Encyclopedia of Needlework available on Project Gutenberg and given a date of 1886 by Heirloom Crochet, which indicates counterpane stitch is exactly what we now call half double crochet (or half treble in the UK), and the stitch is question is called knotted stitch. I like knotted stitch for it, because pulling a loop through both the previous stitch and the yarn over does create a little knot-like loop around the vertical portion of the stitch.
Of course, crochet is kind of the Wild West of needlework, and it is not impossible that older sources used counterpane stitch to name both of these stitches – "the answer" I promised at the start might not truly exist. As an academic type, though, I will be going with knotted stitch until such a time as I see a primary source for counterpane.
---
Incidentally, the video also shows a nice by-hand method of making a slip knot, although I would switch the positions of the two yarn ends so the loop is tightened by pulling the working end of the yarn instead of the cut end.