Up here in northern New England, spring doesn't really make its appearance until late April. That means I am not inspired to do spring cleaning until then, but hey, at least it happens eventually (← lying).
This year spring cleaning involved crochet. One of the earliest crochet patterns I downloaded was CRAFT magazine's reversible Swiffer sock, by Linda Permann. I love the maneuverability of the Swiffer and its ability to get under furniture, but every time I throw out one of the covers I feel like I'm telling the Earth "today, I hate you a little."
That's overly dramatic, but I was happy to find a replacement. It cuts the maneuverability down a bit because of its thickness, but works surprisingly well for dusting.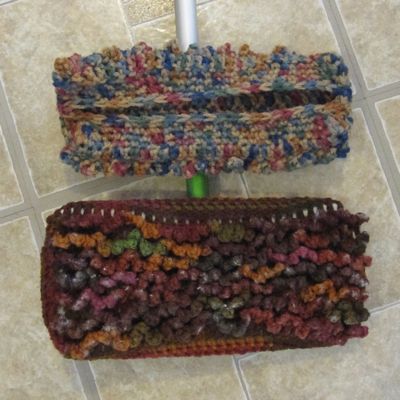 Say hello to my kitchen floor.
The darker one is my first effort. It fits, but is very snug. The Ravelry page for this pattern tells me newer Swiffers are larger than older one, though I think the problem is more likely the fact that I crochet tightly. You can see I've already used it; I'm pleased to report it works very well. Both yarns are Red Heart Scratchy Super Saver Special, and I'm pretty sure the bottom color is Cherry Cola. The skein bands are long gone and I have no memory of the top color name. Incidentally, I have no idea why acrylic yarns of the same brand and line vary so much in texture. I have Red Heart Super Saver that's quite nice to the touch, and other acrylics like Red Heart's TLC Essentials line also run the gamut.
The pattern is easy, although slip stitching the end of a chain in splitty yarn is obnoxious. It didn't take much brain, so I was able to do it while on the phone or listening to talk radio.
For my second sock, I switched from an H to an I hook. I haven't tried it on the Swiffer yet, but it can't help but fit better.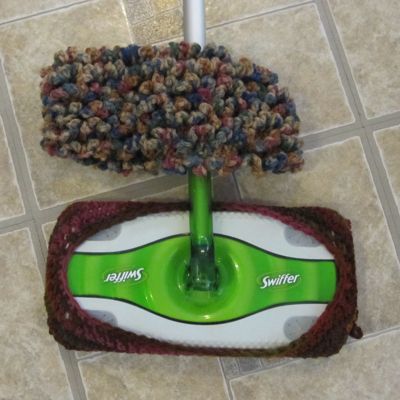 Finally, while trying to get a picture of the Swiffer in situ (i.e., hanging on the landing of my basement stairs), I knocked over my broom for the last time. I have two brooms now, as I realized my older one had been used outside so much it was no longer very good for indoor use. While the old one has a braided yarn loop for a hanger, the new one had nothing, and its built-in hole wouldn't go on my hook (at least not easily). Yet a third color of Super Saver came out of the bag.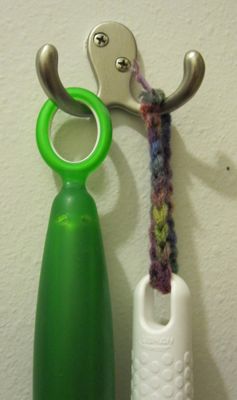 Instructions: ch 25. Pass ch through hole in broom handle and sl st in first ch to join. Sc around, including in sl st, and sl st in first sc; cut yarn, pull end through sl st, and tie ends of yarn together in a square knot. Trim.
Clearly, you don't need to chain 25 stitches to get an adequately long loop. It looks like 15 would be ample.