My husband wears gloves when he washes dishes, and we needed a place to put them in between. Long ago I crocheted him a sort of strap, a loop that hangs from the oven door handle, and he put the gloves through the loop for holding. However, that didn't work so well (though we kept it for probably close to two years). The gloves would regularly fall out and the strap didn't contain their wet grossness, so I got an unpleasant fwap in the leg numerous times.
I had in my stash some pieces of a dollar store mesh laundry bag that I bought eight years ago for aeration in a gym bag (I don't think I ever showed it to you, since it was before the blog; see the bottom of this post for photos). Finally I made a new holder with it.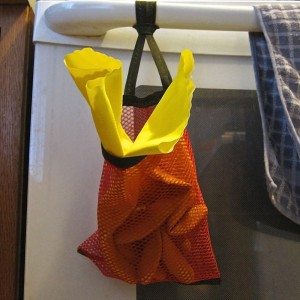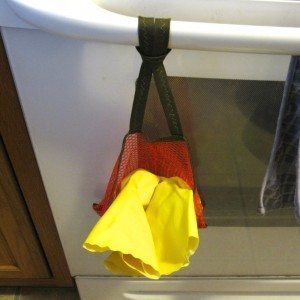 I laboriously zigzagged the piece into a tube (it kept getting sucked into the machine) and then folded it so the seam was center back. Bias tape (extra wide double fold, my favorite kind) across the bottom and around the top, and then in a hanging loop. Simple and quick.
Finally, as promised, a few pictures of the gym bag. Click to embiggen (as always) and un-crop.