The July CAL on Ravelry was flower themed. I had, of course, just recently made flowers for an Amigurumi Army mission, so I worried about ideas. However, I had also just been in Colorado for a wedding and become enamored of wild lupine, so I thought I would make something purple. My thought was penstemon, or beard-tongue, but my efforts turned into more of a bellflower, so I embraced that. The pattern is simple (as always, abbreviations here): sc 6 in a magic ring. *sc 3, 2sc* four times so there are 10 sc in the round. *sc, ch 2, sc in back bump of second ch from hk, sc in next st of rnd* five times. Sl st, sl st, ch 1 [do not sk any sts], sl st, sl st, FO. (The ch 1 helps with the point of the first petal, which seems to need it.)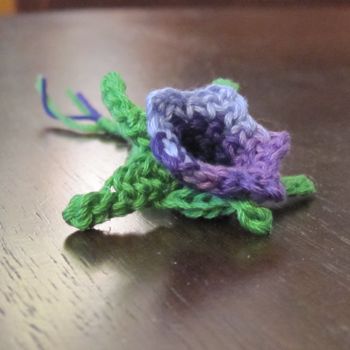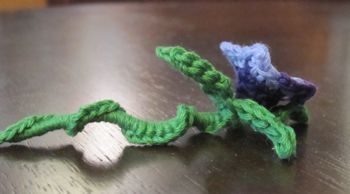 Since it turned into the kind of flower it did, I made a calyx for it. If you're making a calyx you probably want to leave the loose ends of the flower yarn hanging out the back center of the flower. Each sepal is a chain with stitches down it, and this works best (stays flattest) if you stitch into only the top loop of the chain. Make a slip knot. *ch 7, and starting in second ch from hk, sl st, sl st, sc, hdc, hdc* five times (each time you'll have a ch left over). Sl st to join and then sc around the inside opening, one sc per sepal (5 total). Put the loose ends of the flower yarn through the center of the calyx, stitch them through a loop and tie them together. Braid them with the initial end of the calyx and sc onto that braid with the working end of the calyx yarn. You'll need to tighten it down on the braid and have the top of the stitches spiral around the braid to make it stable and straight.
[Alternatively, of course, you can make a stem however you like, or just finish off the yarn and have a brooch-style flower.]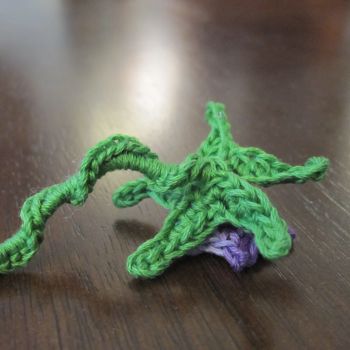 The Amigurumi Army mission for July was nerdy crochet. I thought about something from a fandom, but couldn't come up with anything I wanted to make. However, as we know, I am mathematically minded, so I looked in that world and found this: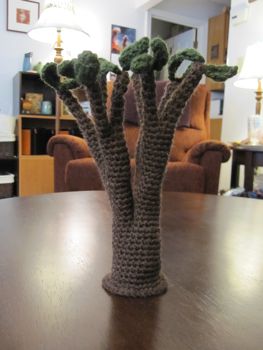 A binary tree.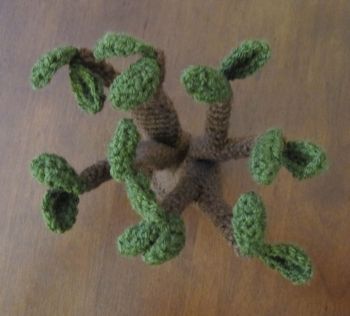 I made it from the top down, sewing as little as possible: when the second piece of each pair was made I just continued into the next segment down, stitching around the first piece without a gap. This required just a little thought about the order of operations. The only significant sewing was the leaves, though that was pretty significant. The smallest bits are 5sc in a magic ring, continued without increase. Then I just put pieces together and stitched around without counting, trying to keep things fairly compact, which is why nothing is exactly symmetric after that. The whole shebang is held up by eight pipe cleaners, one inside each of the smallest branches.
I finished it while visiting a friend with a jewelry tree, so I asked them to pose together.