This is the 133rd anniversary of the opening of the Savoy Theatre in Westminster, London, which was the first public building in the world to be lit entirely with electricity. In honor of that I have old and new lightbulb patterns for you.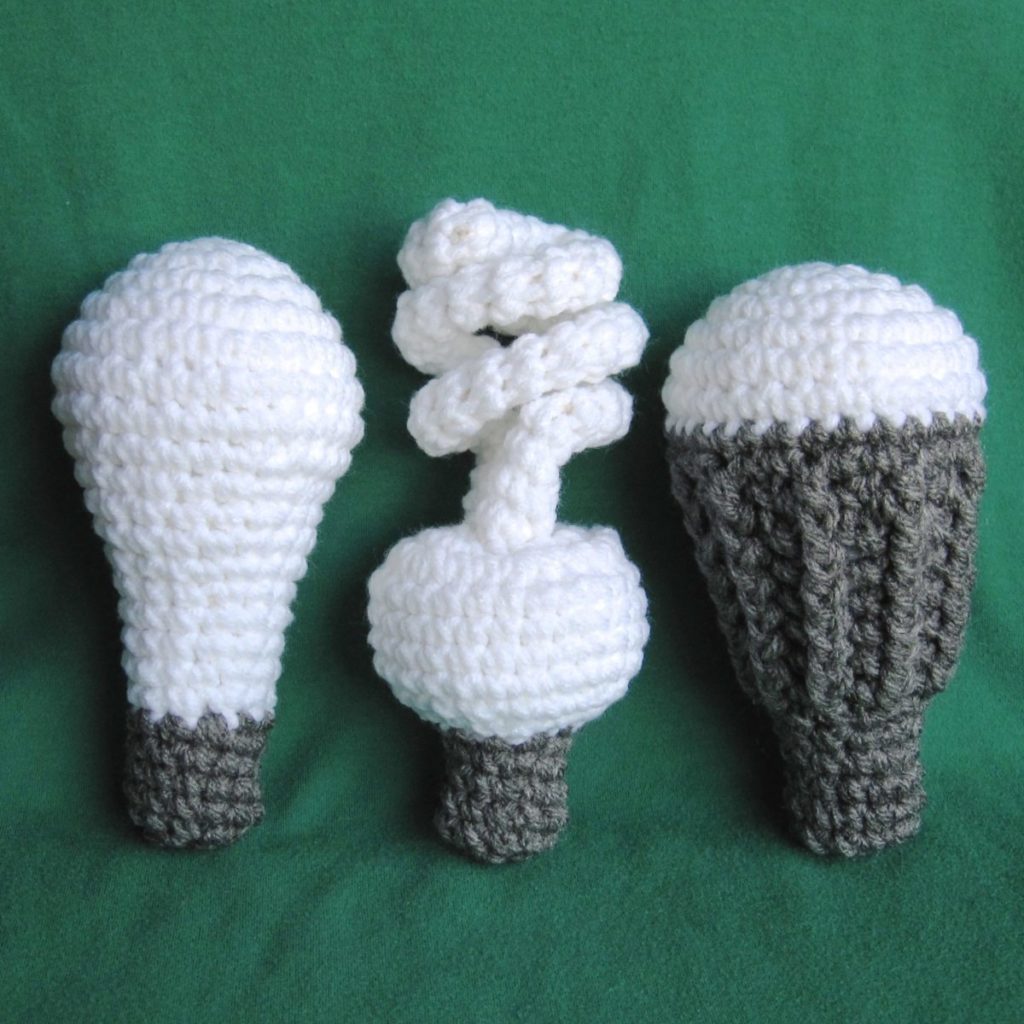 Lightbulbs Aplenty Pattern
In the early days of this blog I designed a compact fluorescent lightbulb and stitched an incandescent bulb to go along with it. In honor of today I thought I'd write a pattern for the incandescent bulb, clean up the CFL pattern if possible, and add an LED bulb pattern to the mix!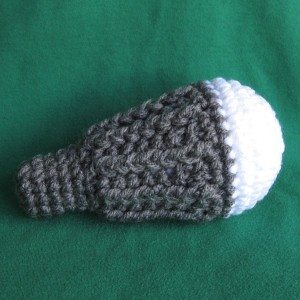 The CFL changes have been made to the original blog post, and for the LED pattern you'll have to get the Name-Your-Price pattern in the store (which includes all three bulbs). The incandescent pattern is below.
Incandescent Light Bulb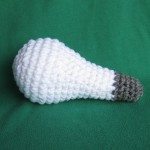 Gauge is not terribly important, but since I use an E/4 hook (3.5mm) on the CFL, I used it on the incandescent as well. You'll need worsted weight yarn in two colors, stuffing, and (optionally) something to weight the bottom with (I have used tangled necklace chains, beads, pebbles, and coins). My crochet abbreviations and conventions are on the crochet reference page, and any stitch instruction you might want is linked to from the pattern page.
In bulb color:
1. Form magic ring, ch 1, and sc 6.
2. 2sc around (12).
3. *Sc, 2sc* around (18).
4. *2sc, sc 2* around (24).
5. Sc 2, *2sc, sc 3* five times, 2sc, sc (30).
6-8. Sc around (30 sc; 3 rnds).
9. *Dec, sc 5* four times, sc 2 (26).
10. Sc 2, *dec, sc 4* four times (22).
11. *Dec, sc 3* four times, sc 2 (18).
12-13. Sc around (18 sc, 2 rnds).
14. *Dec, sc 4* around (15).
15-17. Sc around (15 sc; 3 rnds).
18. *Dec, sc 3* around (12). Stuff bulb.
Cut yarn and needle join in second stitch from end; FO bulb color.
In base color: tie slip knot and place on hook. Insert into any stitch of rnd 18 and attach with slip stitch.
19. Starting in next st and ended in same st as sl st, sc around (12).
20-23. Sc around (12 sc; 4 rnds). Stuff, finishing with bottom weight if using.
24. *Dec* around (6). FO.