If you are one to worry about the best way to do mathematics (yes, there is more than one option!) you may already be aware that pi has a competitor: tau. Instead of circumference over diameter, tau is circumference over radius. There are various arguments: radius is more fundamental than diameter, "once around the circle" is a better base unit for radians, 2π shows up all over the place and things would be simpler if that quantity were the constant instead of π. For two videos and links to other sites about tau, visit Khan Academy.

Today is tau day, 6/28. In its honor, I have a tau for you. This is made by cutting pi in half rather than doubling it: you need the Big and Little Pi pattern, but then you simply do only select parts of it to make tau.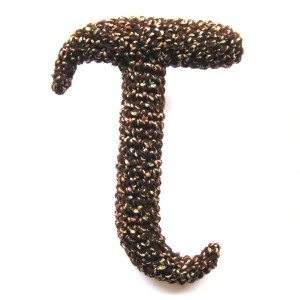 Here is how to make tau from Big little pi:
Big little pi top bar: stitch rounds 1-17 (horn through first leg opening). Proceed to stitch rounds 28-33 (making the leg before stitching round 33, as directed).
To check your counting: there will be 6 rounds of "sc around" after the round that stitches into the chain of the leg opening.
Big little pi tapered foot: make as instructed, beginning in the center skipped stitch of round 12.
That's all!