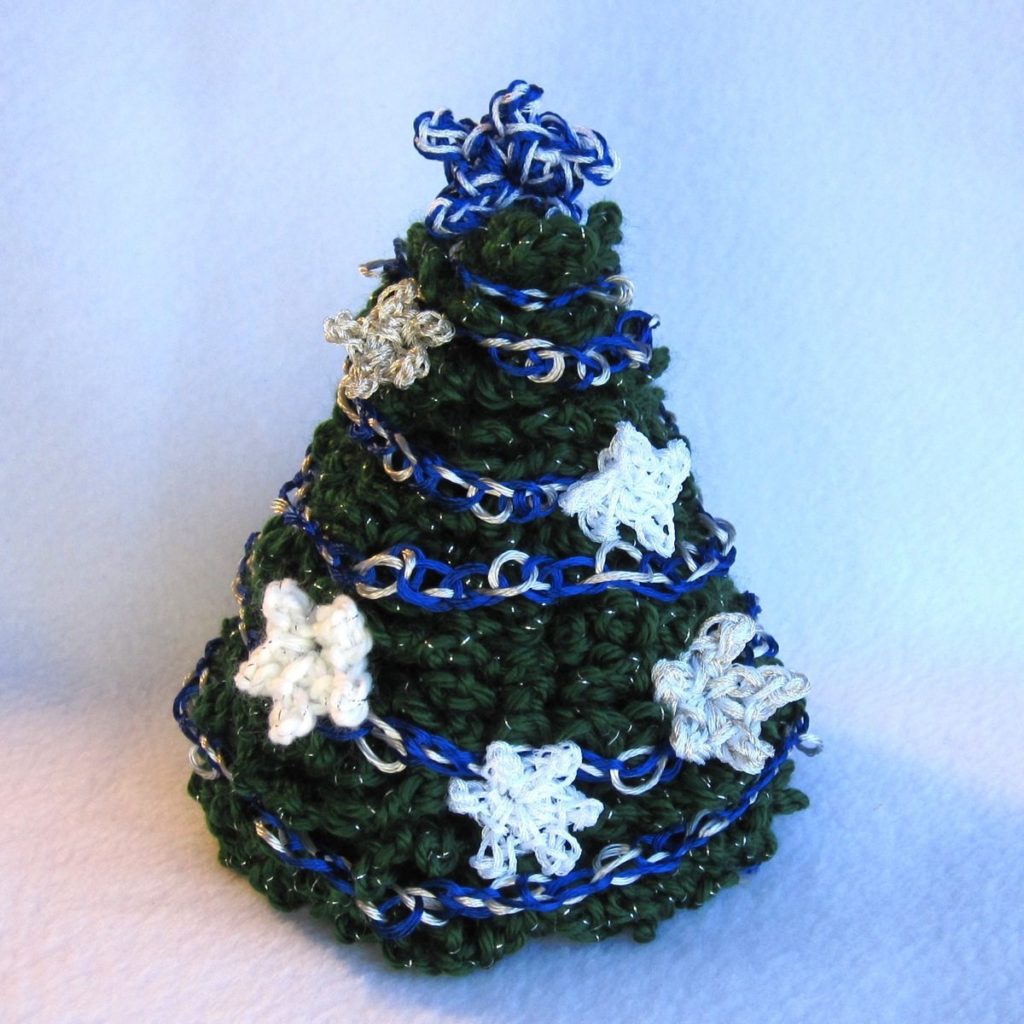 I did not like the blue and silver options in metallic floss (though I fortunately picked up a white skein with my gold and red), so I got rayon/satin instead. As mentioned in the initial post, I now think that was a mistake. Many words not in keeping with the spirit of the season were said, and I may have even thrown the floss on the floor at one point in a fit of pique. I can neither confirm nor deny. The starting slip knot in particular does not want to hold well. I made different fixes for the two types of decorations, described below.
This tree is my Tabletop Tree made with a cone of Red Heart Super Saver "Hunter Green" yarn and branches of Herrschners Holiday "Dark Green." The Herrschners yarn is finer and twistier than the Red Heart, which led to a shaggy, textured tree.
Magic chain garland: Chenille yarn in an appropriate color, metallic eyelash yarn for tinsel, or a simple chain make great garlands, but for a two-color garland I turned to my magic chain. To make one, hold two strands of yarn together, tie a slipknot, and place it on your hook. Now chain as usual, but grab only one strand for each chain and alternate which one it is. I did these with embroidery floss instead of yarn, though, and used a C/2 hook (2.75mm). To deal with the slippery knot, I held onto it with my fingers until I'd chained a few times, and then trusted to fate for it not to fall out (well, fate and the long tail I left) while I finished the chain. It didn't, and after finishing I went back and tied the two colors in a square knot, with an overhand knot over top of it so the tails would be pointing the same direction. I pulled the end of one color through the last loop of the other at the end, tightened it a bit, and then tied overhand-square-overhand to secure. The garland used about 2/3 of a skein of each color, but more of blue and less of silver – I think this was due to shifting my grip upwards after the same color link most of the time, so the slippery floss that wanted to pull anyway was inclined to do so more on silver than blue.
This magic chain does not look much like a yarn magic chain, but it's cheerful. The satin floss likes to keep its own shape and doesn't have the benefit of friction to make it stay put. To put it on the tree, I used a yarn needle to hide the floss at one end inside the tree, wrapped the garland around in a spiral, and then hid the opposite end into the tree as well. And then I re-wrapped the garland, because it had slipped completely out of place during the end-hiding operation.
To add the ornaments, I stitched the beginning and ending yarn ends through the tree to hold the star in place – leave an extra long tail on both ends for ease of doing so.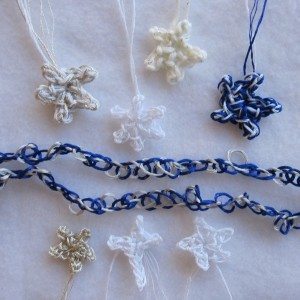 Stars: I made the stars with embroidery floss and a size 4 steel hook (2mm), or with worsted weight yarn or two lengths of floss and an E/4 hook (3.5mm). You can make them with 4, 5, or 6 points easily, although 5 looks the most like a star – 6 looks a bit like a flower, and 4 like a cross or plus sign.
Here's the pattern. Note that when I slip stitch into a chain other than to make a ring, I insert my hook in the back bump of the chain.
Ch 4, sl st into ring.
*Ch 3, sl st in 2nd ch from hk, ch 1, sl st into ring* as many times as desired; each iteration of *…* makes a point.
FO, putting the end of the yarn through the center of the ring, front to back.
To make one longer point, replace the *…* with:
Ch 5, sl st in 2nd ch from hk; ch 1, sk 1 ch of ch-5, sl st in next ch of ch-5; ch 1, sl st into ring.
The satin floss did not work well at all. Here's a sample: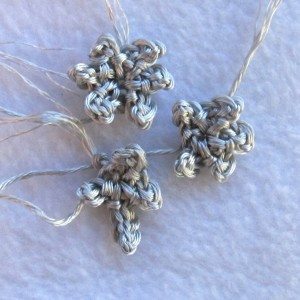 Slip knot tips: I did learn some things, and made enough stars to say that a skein should make 3 each of 3 kinds: 6-pointed, 5-pointed, and 4-pointed with one longer point. In both metallic and satin floss, two lengths held together don't make for a sturdy slip knot. With metallic floss by itself, the slip knot holds well. With satin floss, it doesn't, but if you add another wrap to the knot before tightening it holds perfectly. That is: a slip knot is essentially an overhand knot with the working end of the yarn looped up through it. You want to convert the overhand knot to a double overhand knot. In the lower drawing of my slip knot instructions, the tail going off to the left gets wrapped around the last strand it passes under.
In the stars made from two lengths of embroidery floss I knotted each separately and then worked with them together. Metallic plus satin worked fairly well (blue and white); satin by itself was just mushy and hard to finish off. The silver floss in the photo is some I had at home, which of course was on an unlabeled bobbin.
I've made the decorations above and in the next post, as well as my tips for working with embroidery floss, available as a name-your-price PDF for easy printing.
---
❄ Overview post ❄ Making the tree ❄
❄ Blue, silver, and white decorations ❄ Red and gold decorations ❄