I am really excited to show you today's project, now that a flat tire and wet weather have gotten out of the way of my photos. Look what I made for my bicycle!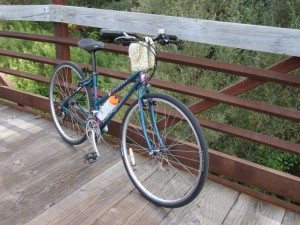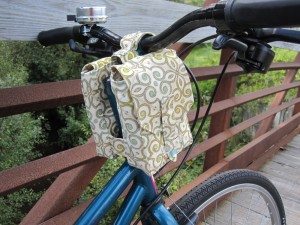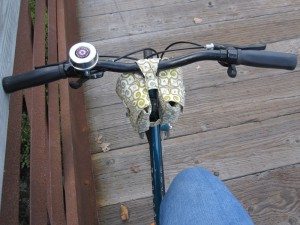 I'm a little obsessed. I only ride on bike paths, and so far, in fact, on only one path that begins really close to where I live, so I didn't really need carrying capacity – I can put my keys and phone in my jeans pockets and it's not too uncomfortable – except that I neeeeeeeeeeeded something. Those looping gearshift and brake cables disqualify a basket, I think, not that it stopped me from mentally designing one crocheted from nylon mason's twine. I also have extensive notes on a seatpost bag, that hangs from the back of the seat and secures to the seatpost to keep it from swinging around, but I couldn't get the logistics of assembly to work out, so it's tabled indefinitely.
Meanwhile I went riding and noticed I had a decent amount of space behind the handlebars. Certainly enough for keys and a phone. It's a little time consuming and a little awkward to sew, but should you want to make your own, here's how.
[and incidentally, I have decided to try to balance the inconvenience of scrolling past something you're not interested in with the annoyance of clicking through to read something you are interested in by cutting long tutorial/pattern posts so the pattern itself is past the cut. Other posts will remain in one piece.]