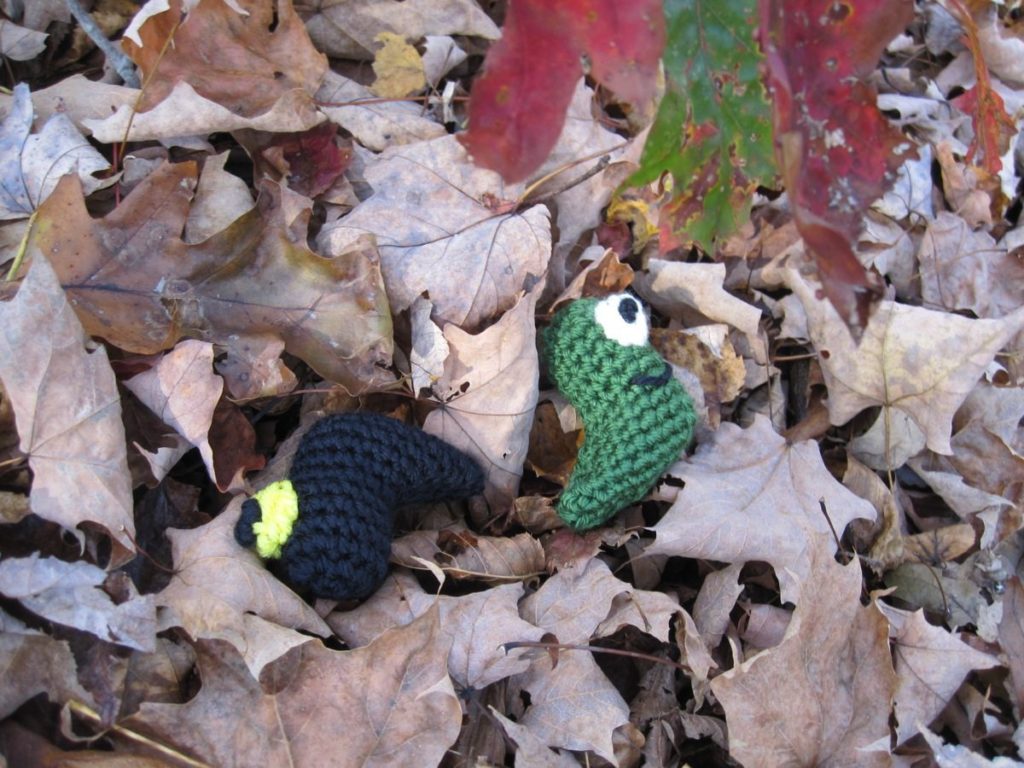 In line to make a purchase the other day, I noticed a set of four monster stampers in the Halloween-themed impulse buy display. One of those monsters looked an awful lot like a Sluggo, only with a single eye, centered and enlarged. I thought I could probably produce a modification of the Sluggo pattern to produce a similar result.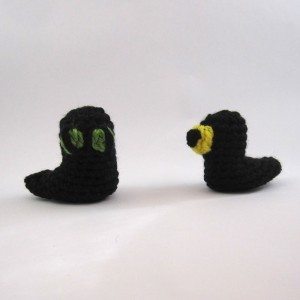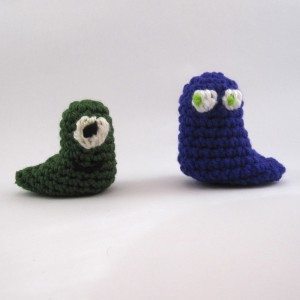 The modification boils down to this: replace the bobbles for the eyes with sc, and the sc between them with an sc in BL only. In the next round, the bobble decreases (decreasing to eliminate the extra loop created by a bobble) will each be a single sc, and you'll make a 4-tr bobble in the unused loop of the stitch two rows below. Then in the row after you'll have to bobble decrease.
To wit:
4. Sc 13, sc in BL only, sc (15).
5. Sc 13, 4-tr bobble in unused FL of rnd 4, sc (14 sc, 1 bobble).
6. Sc 13, bobble dec, sc (15).
Instructions for a 4-tr bobble: This is four partial triple crochets looped together.
**YO twice and pull up lp in prev st. *YO, pull through 2 lps on hk* twice.**
Repeat **…** three more times for a total of 4 partial tr and 5 lps on hk.
YO, pull through all 5 lps on hk; ch 1.
Make sure to insert your hook the correct direction for the bobble! Front to back will be more like bottom to top, and will be pretty awkward. Let the bobble fold down toward you during the making and all will be well.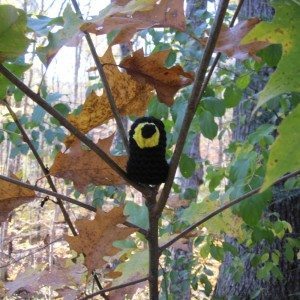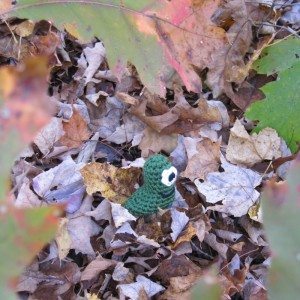 Get the Sluggo pattern in the shop.