I have a lovely new cabled shoulder wrap. This is a pattern I attempted last spring, but unraveled because of major sizing problems and dissatisfaction with the yarn I was using. It worked better this time around.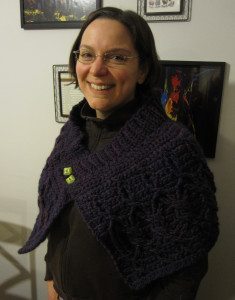 The cable pattern is just beautiful. It looked questionable at various points along the way but always worked itself out in subsequent rows. Following my notes from last time, I used a J hook (6mm) and made the XL size with the S/M ribbing width. I might have been able to make the L, because under its considerable weight it wanted to slouch off my shoulders. I made two fixes to that.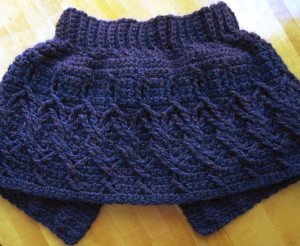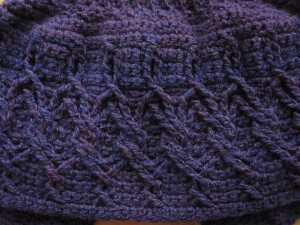 One was to make the ends meet at 90 degrees instead of head on, by placing the buttons parallel to the base of the ribbing instead of parallel to the front edge. That wasn't enough, so I also slip-stitched from rib to rib on the inside, near the base of the ribbing, to reduce the stretch. That worked perfectly and also made the ribbing stand like an evil Disney queen's collar, which was a pleasant side effect.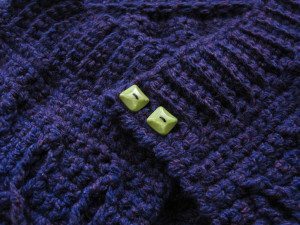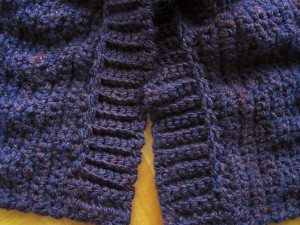 My buttons were marked 1″ and are chunky. I may need to reinforce the buttonholes to keep them from wanting to slip out, but they work pretty well. I like that they look like fancy dice.
Red and purple are hard to photograph…