I'm in an art exhibit for the first time ever! [This is more a function of me getting in gear than anything else, but it's exciting nonetheless.] A set of three mixed-media fiber art pieces, with sewing, embroidery, weaving, and gluing.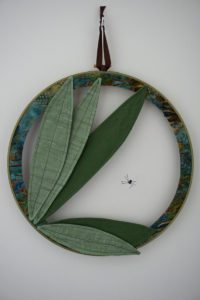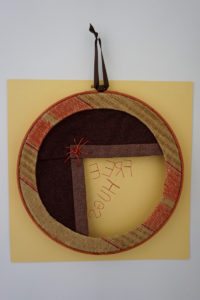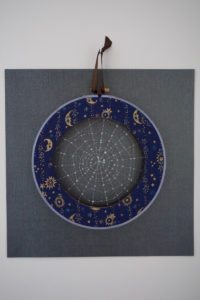 From left to right, these are Relaxation, Invitation, Ornamentation. Click to embiggen; the next larger size would have made them taller than my browser window, and I find that super annoying on other sites.
My hubby took some fantastic closeups of them that I'll share two of: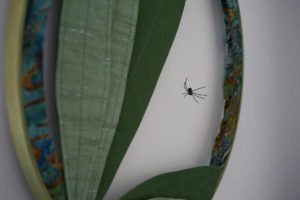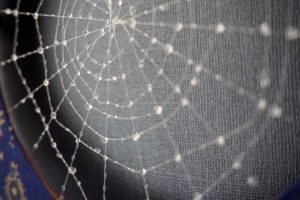 These will be on display at the Upper Valley Food Co-op in White River Junction, VT, as part of their Earth Day art show. I believe they are up for three weeks starting today, and there's a reception 4-6 PM today.
A bit on the making: The hoops are 12″, 10″, and 8″ wooden embroidery hoops painted with acrylics; two are over 12″ scrapbook paper. Each has a two-layer fabric "frame" perhaps with other fabric elements and a hanging ribbon that originated on a candy package. The webs are nylon filament sold for beading and the dewdrops are Mod Podge Dimensional Magic, a material I'd been looking for an excuse to buy and try.
The smaller spider is thread and wire (and a loop of filament leading to the hanging thread), held in place with friction and Fray-Check. The bigger one is wire and beads made rigid partially via Jewel-It embellishment glue. The wire lettering is also held in place by Jewel-It. I used steam (was going to say an iron, but that implies touching) to "block" the nylon, which shrinks it a bit but also helps it take the shape it's pinned to when heated. That was especially important for the hanging spider, who doesn't weigh enough to straighten the nylon itself!