Through the Sew-Op, I had the chance to take a two-part course from one of my fellow teachers, Sally Munro, on landscape quilting. We used the method in the book Accidental Landscapes, by Karen Eckmeier. I chose a photo of sunset as seen from my grandparent's backyard when I was growing up (appearing in speckly scan form below). See what you think of the interpretation: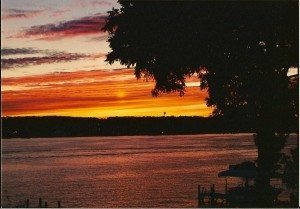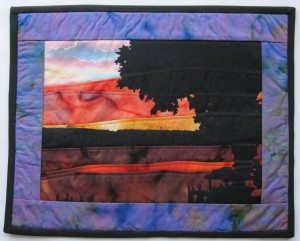 I took a few progress photos to give you a sense of how it went together.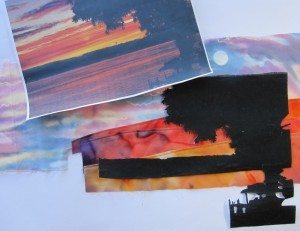 The sky and water were made from pieced fabric, through a technique called texturing where you cut a slightly wavy edge, press it down a quarter inch, and topstitch it to the layer above. After trimming the lower layer to a quarter inch below the stitching, you can add the next one. Cutting a wavy edge rather than a straight one gives a more organic feeling to the piece. The perfect colors miraculously came out of Sally's fabric stash.
The tree was black fabric on Steam-A-Seam cut out by hand with a previous copy of the photo on top of the fabric. It is on top of the sky but extends below the top edge of the water, for extra security.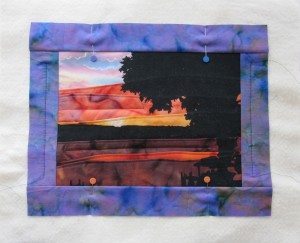 The binding is one continuous strip, joined into a loop after being sewn on three sides and a couple of inches into the fourth on each side. It is turned to the back and hand-sewn down. I used corner pockets for a hanging rod; the binding is what's called a French twist and is supposed to create its own rod casing, but the fabric I used was too narrow to accommodate anything but the tiniest of dowels, with virtually no overhang at the ends.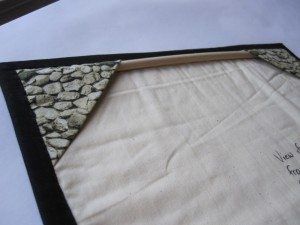 Unfortunately I basted by machine, which was not Sally's intent, and couldn't get the needle marks out. It's a good thing I had basted with the direction of the design! I will know better next time. It was a wonderful learning experience, though, and I am more than happy with the way it came out.