Over on Aquilino Arts, we planned to lend some personality to our site by creating an artistic version of a photograph of ourselves. As the crafter of the group, my medium was fiber. I'm quite pleased with how it came out.
The photo it represents actually came from this blog, from the post discussing the creation of the hat I'm wearing in it. Here it is for direct comparison.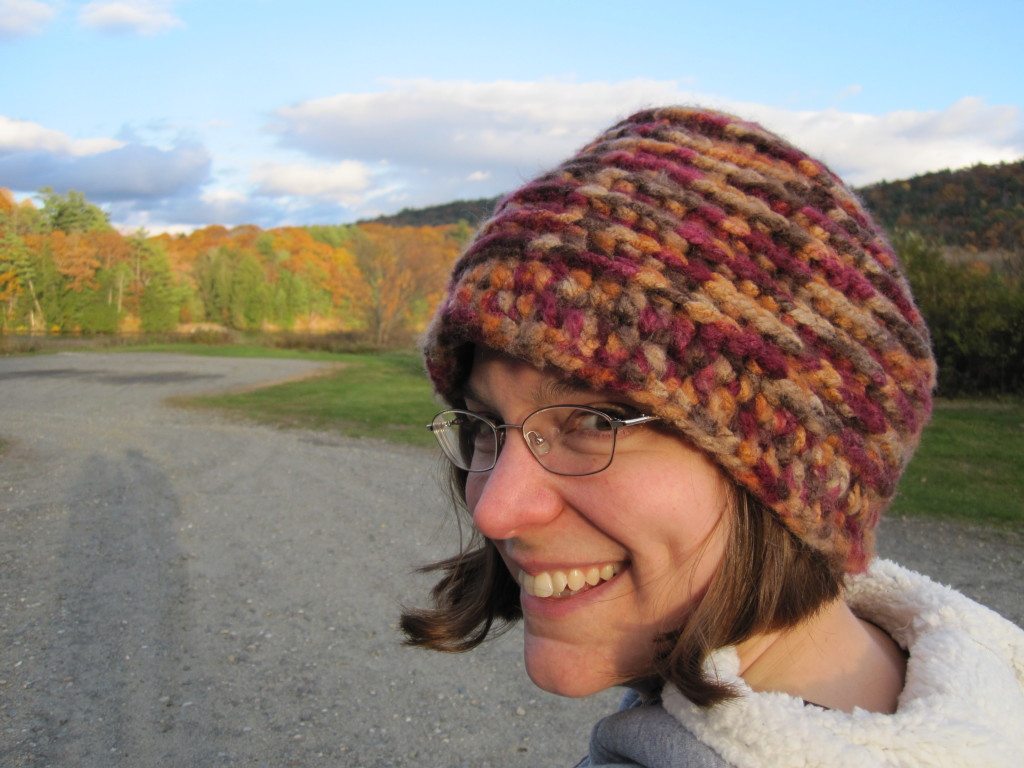 We did not end up using this for the team page as originally intended; the idea sort of fizzled out. I wanted to show it off somewhere, though, and in case you're curious, I have for you some material lists and process photos.
Visible components:
Fabric

satin (sky, glasses)
fleece (white part of jacket)
home dec type (dark green trees, gray part of jacket)
netting (overlay for gravel)
cotton and/or cotton-poly (everything else)

Sewing thread
Bulky acrylic yarn (hat)
Fabric paint (lips and teeth)
Blanket binding (frame)
Invisible components:
Flannel (to pad up my nose-cheek-chin region just a tad, though I think it ended up being irrelevant)
Heavyweight nonwoven interfacing (face/head, line of trees on left, glasses, two full-size backings)
Fusible web (glasses, mouth)
Tacky glue (glasses)
Fray-Check (glasses)
The first two photos are the back view of the piece that formed my head and neck, and a partially laid out background. I used the head piece to help align the background pieces.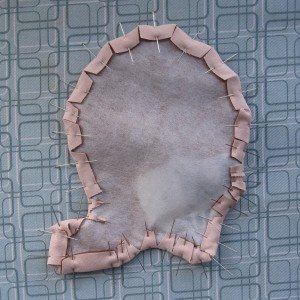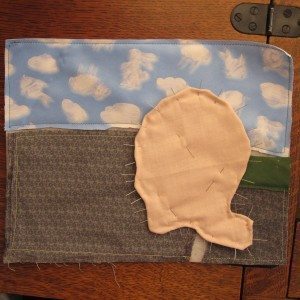 Next, a shot I call The Invisible Bozo, and a taste of the oddness of cutting up three or four copies of your face to do a project.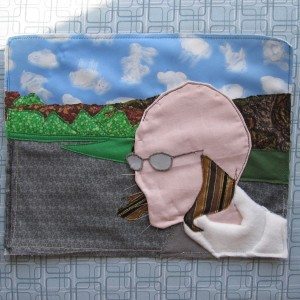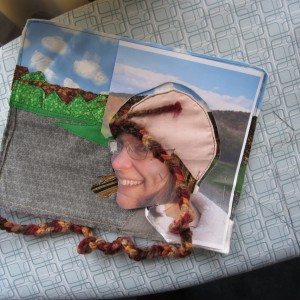 The back, before and after I covered it with a second layer of interfacing and with calico.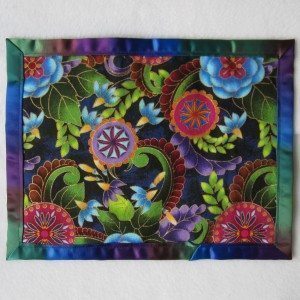 Finally, a shot of the finished item lit from the right instead of the left. It really shows how much dimensionality the piece has.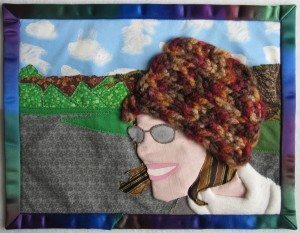 This isn't a project I would have done without someone telling me "hey, you should to do this," but it was an interesting challenge. I don't know what I'll do with it now, but my rationale for backing and binding it was that if I was going to put as much time into something as I did into this (I didn't keep track, but 10 hours give or take) then I was going to finish it properly.