Last night I went through a stack of magazines I'd picked up at a tourist information stand and free at work. Something caught my eye as I was paging through a tourism magazine, and a while later I had this: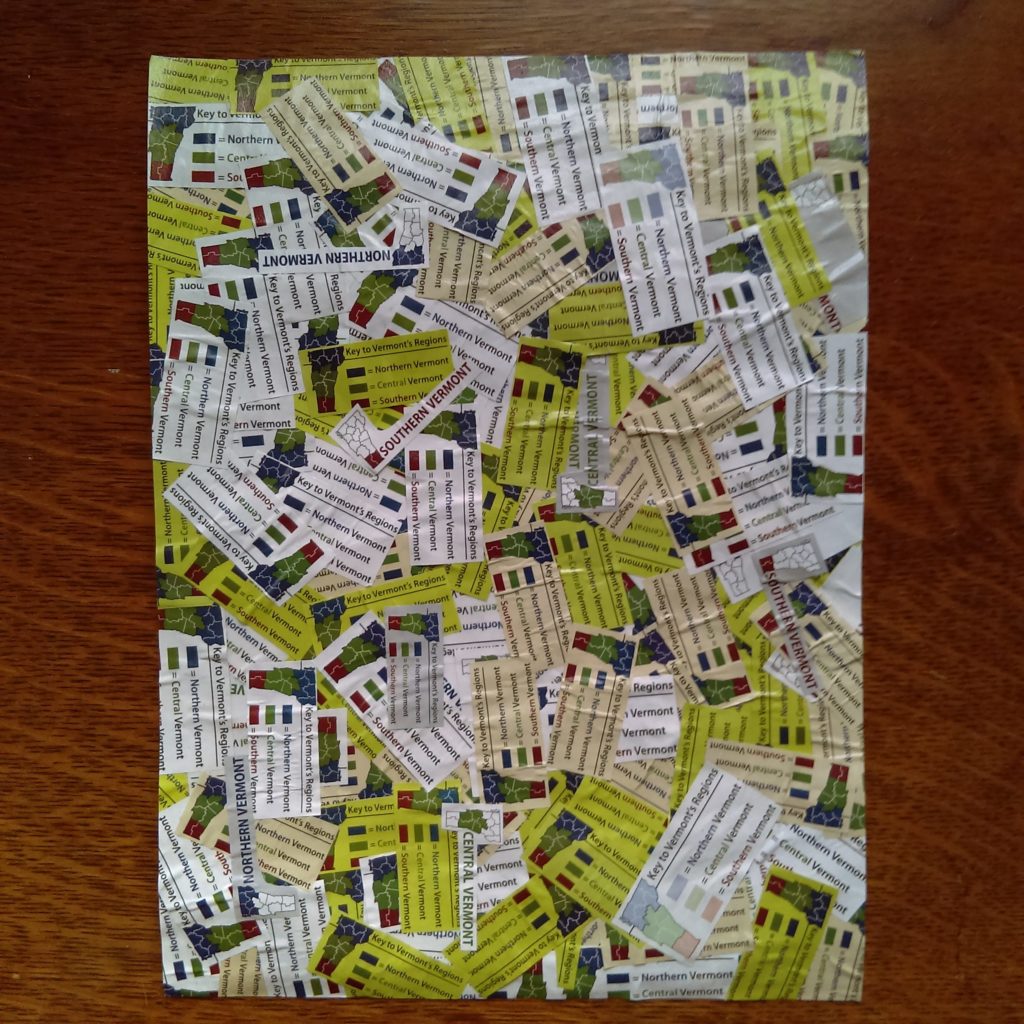 Well, not literally; I trimmed the edges this morning. But essentially.
Just a lark, slopped together with lots of mod podge and minimal care. I intend to make more collages in the future, though, so I thought I'd record what went well here and what I would change if I were doing a collage like this to be a serious piece.
The Good:
I laid my sketch pad paper out on waxed paper and glued magazine clippings off the edge. The waxed paper meant I could turn it over and see the edges for trimming this morning without having to try to peel it off in advance.
I had tons and tons of the little clippings. I kept cutting them even though I was sure I would end up with something like twice as many as I needed. Nope, I needed all of them.
I saved out one of each version of the key to make sure they were all represented on the top layer.
The Not So Good:
I couldn't get a sweet spot between too much and not enough Mod Podge in its role as adhesive. If it was a thick enough layer not to dry immediately it wrinkled the paper and made it translucent. If I were doing this "for real," I would … well, I'd be a lot more careful in a lot of ways! But in particular, I wouldn't use Mod Podge as the primary adhesive. Instead, I'd use a glue stick to attach one round of clippings (probably over half) with minimal overlap but hopefully good coverage. Then I would dab on a thin layer of Mod Podge, covering the whole page, and let it dry. Intermediate layers of Mod Podge should mean I wouldn't have to worry about making sure the glue stick was all the way out to the corners of every clipping. Repeat with the rest of the non-reserved clippings, and finally with the reserved clippings. Then probably one more layer of Mod Podge, thicker now because the previous coatings should protect the paper from wrinkling.
Quite a bit gained from following that moment of silly inspiration!