I have for you another installment of material related to the Sewing Tidbits page. Mostly a few pictures.
I love box pleats. And inverted pleats, which are box pleats on the back. I think it is because I like symmetry. Below we also have a picture of a standard, or knife, pleat, for comparison.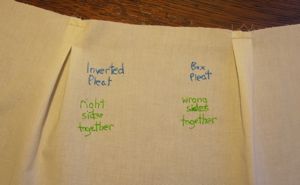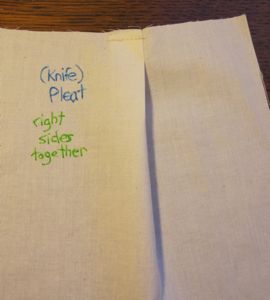 Box pleats appear in the center back of dress shirts and where the lining of a coat meets the coat in the top center back. I use inverted pleats in many places where I need to take width out, because I think the way the fabric spreads is pretty. For example, if I were making a bag that was to be fuller on the inside than at the top opening, I would probably use a box pleat on the side to bring it down to the top dimension.
The following is my attempt to show the results of different approaches to meeting a new seam and an old one, for example when you take in pants at the waist. You can see that a very obtuse corner is not much different from an actual curve, because the fabric is inclined against having sharp folds, but a sharper angle (though still obtuse!) gives a decided corner to the fabric. The pictures below also illustrate clipping curves in seams. [I would also trim the allowance in real life so it was all in the 5/8″ range.] If the seam line is closest to the raw edge at the middle of the curve, clip a notch out; if the ends of the curve are toward the raw edge you can notch or just snip. In the former case when you turn the piece right-side-out the seam allowance has less room and in the latter case it has more room.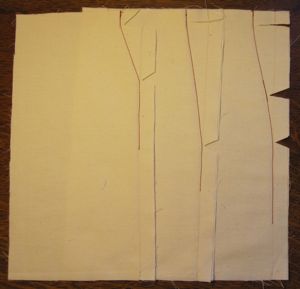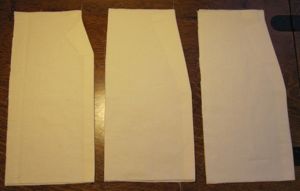 Finally, I have action shots of the pants cuff manipulative from class.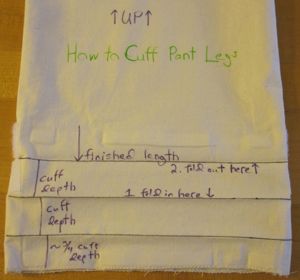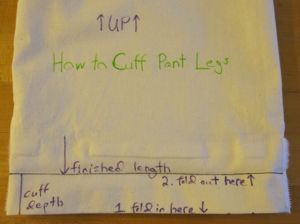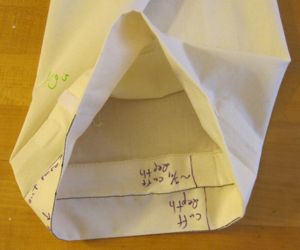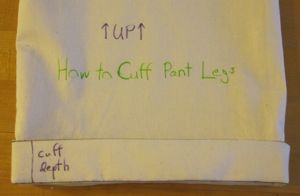 Just a few things of use…