I have a crafty new planner. Previously, I'd gotten a hardbound planner that had 2-page months between sets of 2-page weeks. However, it was too large for my purse, and I found myself failing to consult it on a very regular basis. When I get busy I just want to have a piece of paper lying out with my to do list. It occurred to me I might be able to have my cake and eat it too with a planner in a mini binder.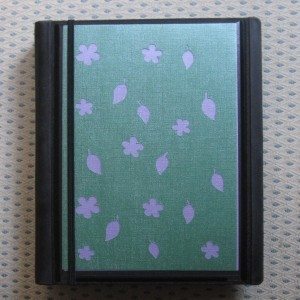 That cover is two sheets of pearly scrapbook paper cut to size, with the diecuts in the top layer made with my Cricut machine. You can see a strip of elastic – my previous pen holder was a pocket that hung onto the front of the planner with two elastic loops. It's been a while since I switched to the binder and I only just finished my new pen holder. Meanwhile I got used to taking out the current planner page and sliding it under the elastic on the outside of the binder, so when I replaced the pocket I turned one of its elastics into a separate loop.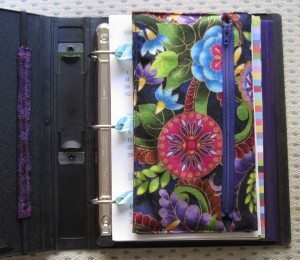 Here's the new pouch! It's basically two flat pieces, each double-sided, one with a zipper and the other with a layer of heavy interfacing and some ribbon loops. It didn't come out well enough to be worth sharing a pattern for, but I'm happy with it. The striped dividers are more scrapbook paper, cut to 8.5″x5.75″ so they stick out a bit.
And finally, here's a highlights reel of my binder's contents, so I can share the sources of my printables.
Oh, and you may be thinking, "if her previous planner didn't fit in her purse, there's no way this one does!" You're right. I got a little staple-bound two-year monthly planner to use for that. It is full of silly animal pictures.