One of my college roommates is getting married on Saturday, and she and (especially) her fiance are big Yankees fans. I had thought of making them fabric coasters already, and in fact the Spider-Man coasters are for them (she used to shoot us with webbing in the dorm: "fffshhh! you can't move for an hour!"). I got more ambitious, though, and added Yankees coasters to the list.
Edit: It has come to my attention that my ex-roommate is actually a Mets fan, and all the Yankees-related activities and decor I have seen have been her selflessly giving to her beloved. I hope she likes the Spider-Man coasters.
Navy blue fabric markers are hard to find. I thought I would have to go with acrylic paint, but finally found some at Create For Less, where I was glad to see the purchase multiple was just 1. A Yankees logo was easier to find; I decided on an old one because it was more interesting.
I acquired the logo before I was sure what I would do with it, so I printed it out 4-up at a reasonable coaster size. After my marker acquisition I traced the design onto strips of fabric that were two coasters big. At this point I hadn't decided whether to make two coasters or four.
After pondering the fact that I already had two Spider-Man coasters for them, and four of "ordinary" fabric, I thought a total of eight, four themed and four not, made more sense than a total of six, all themed but not half-and-half. After heat-setting the marker, I ironed on interfacing and sewed pinstripes. If I'd paid attention I would have lined the pinstripes up to mesh with the edge-stitching better (read: at all), but they turned out okay. Here they are ready to sew and ready to turn: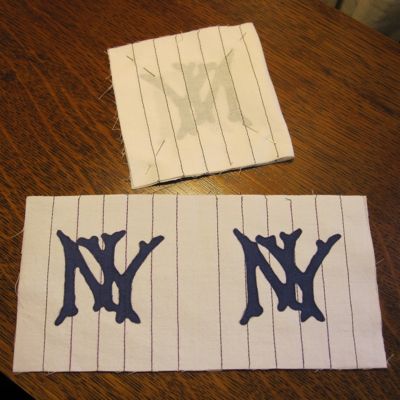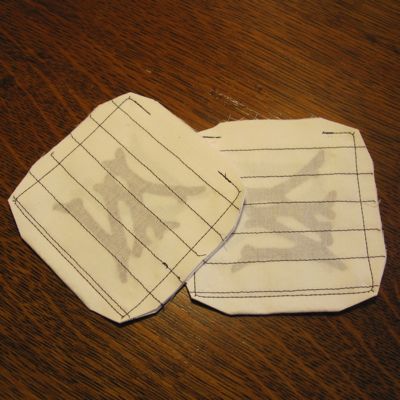 After a trip through the laundry and a press for neatness, they were ready to wrap! Here's the whole family.