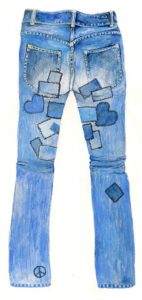 I've mended a lot of jeans over the years – my hubby tends to tear a knee out midway through the jeans' lifespan, and my jeans simply wear thin before I feel like they're done with this world. Here's some advice from my experience.
Tears:
The hubs' jeans tend to get washed between injury and repair, so the edges of the tear fray out. My method is this:
cut out the frayed part
cut a large patch from matching material (saved from former jeans)
pin the patch onto the inside of the jeans (much less noticeable)
zigzag the edge of the hole onto the patch (prevents more fraying)
stitch with the grain of the fabric, in the ravines, with a somewhat shortened stitch length, in two rounds. First every 6 ravines or so in a large area centered on the hole (you'll have to stitch across the ribs to get between ravines, but it will be minimally noticeable), and second every other ravine or so in an area that extends only an inch or so from the hole. This secures the patch out into good fabric as well as giving it a very sturdy connection in the weak fabric.
trim the excess patch fabric from the inside of the jeans.
Hubby's jeans also tend to get holes just above the bottom hem, and I follow a similar but far less thorough method for those holes.
Wear:
My jeans rub thin, mostly on the inside of the thighs. Weakening of the fabric over a general area means the remaining life is limited, but can still be extended. Here's this process:
iron fusible tricot onto the inside of the jeans, covering the worn area and extending well into the good. Tricot is good because it is very light and stretches but still gives you a solid foundation for your stitching.
stitch the tricot in place (otherwise wear and washing will peel it up) with straight stitching as far out from the worn region as you can stomach. Well-matched thread, short stitches, and stitching with the grain of the fabric will minimize the visibility.
cover the worn area, into the good again as far as you can stomach (probably not as far as with the straight stitching), with wide zigzag; be more thorough the more worn through it is.
With "as far as you can stomach" don't be shy! You have to get well into the good fabric and be thorough over the bad or you'll just have to do it again sooner. Stitching within the worn fabric is a double-edged sword – it holds it but simultaneously perforates it. Getting into the good fabric is a necessary anchor for your stitching and tricot.