Craft Countdown #9 was robot iron-ons. It was getting close to 11:30 and I was worried about running out of ideas, so I started rooting through my fabric drawers. The top one holds flannel-ish material and denim, and I pulled out a small remnant of robot fabric. I loved this fabric, but there is so little of it, the options for using it are limited. I had thought about making iron-on patches out of it, but hadn't gotten around to it.
What I had on hand for fusible web in sheet form was Wonder Under, so that is what I used.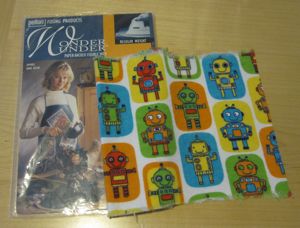 I cut pieces, lined them up with the pictures, and ironed them down. Of course, it being 11:30, I did two dumb things: I started ironing one on upside-down, necessitating a later cleaning of the iron, and I peeled the paper off before cutting them instead of leaving it as a protective backing. They're still cute.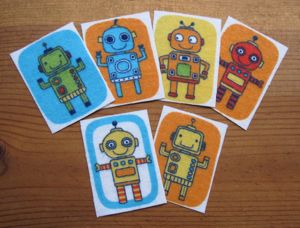 Now I just have to figure out what to do with them. I have made these before, out of other fabrics that had nice little pictures, but they languish in a drawer for the most part.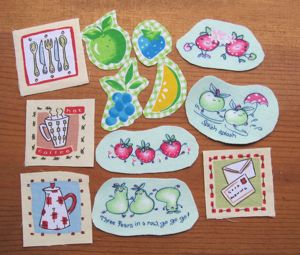 Of course, making the business card case and the memo pad holder gave me a use for some of my commercial iron-ons, so maybe these will see use in such projects as well.