As I work on a few longer-term projects, here's a little list of simple handmade gift ideas. These are all sewing unless otherwise stated.
1. Boxer shorts. With a fly-less pattern, these are four pieces of fabric, 8 lines of stitching, elastic inserted and stitched together, and a little more stitching to finish closing the waistband and tack the elastic in place so it won't twist. Jo-Ann regularly has patterns on sale for $2 or less, and although my pattern calls for a yard, to make a size medium, I've found I can get away with 3/4 of a yard of 58″ fabric (provided the pattern is not directional). This means I can buy remnants, so if I get elastic when it's on sale, the shorts are quite inexpensive. Now, I do add some time by stitching the seam allowances flat against the fabric (to help prevent fraying and tickling the wearer), but I save some time by ironing an inch-wide turndown into the waistband and hems, zigzagging the raw edges, and stitching at 3/4″ – instead of ironing an inch-wide turndown followed by a 1/4″ turnunder and stitching right next to the edge. I had to do this once with fabric that refused to turn under by such a small amount, and it's immensely easier and less frustrating.
2. Coasters. I have a tutorial for these, and lots of additional examples: more complicated design, denim, stenciled, and traced. You could also make a square (about 4″x4″) out of a fancy crochet stitch pattern (use cotton yarn for absorption), or make a small motif such as PlanetJune's Love Hearts.
3. Fabric charm. This falls into the "purely decorative" category, but I posted a tutorial for this not too long ago. You wouldn't have to do a heart – if you were congratulating someone, it could be a star; for a housewarming, a little house silhouette; for a baby shower, a teddy bear head. You could also sew a loop of ribbon onto it to make it a hanging ornament.
4. Potholders. These are a bit more time-consuming, as per my tutorial, but don't have to be ridiculous. If you take a solid piece of interesting fabric as the potholder face and whipstitch the final binding edge instead of blanket stitching it, the time is cut greatly. For an easy quilted look, you could cut two triangles of fabric that overlap the center diagonal by a half inch, stitch them to the fleece per the diagram below, then open them out and zigzag the edges.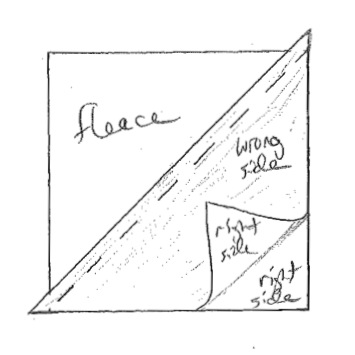 There are examples of more complicated potholders in this post. Crocheted potholders, as in this post, are probably even quicker, though I personally don't like them as well.
5. Terrycloth bib. I am of the age that over the last 8 years or so, and expected to continue for at least a good 5 more, my friends are all having babies. Being a pragmatic person I started making them terrycloth bibs (soft and absorbant!) with an ordinary bib pattern (as with the boxers, you can easily procure one on sale for $2 or less). You can make these as fancy or plain as you like, and if you have a serger they will be even quicker.
6. Finger puppets. A crochet idea! I have a post with several kinds of finger puppets, including my own design, and also have resized a manta ray to make a finger puppet. Crochet Pattern Central has a whole category of finger puppet patterns. These are extremely quick, and once you have the basic shape you can add all sorts of features. Just secure your yarn ends extra-carefully and use embroidered features – beads are bad if the puppet gets into a baby's hands, and safety eyes stab your finger on the inside.
7. Fabric bag. Finally, you might have a storebought gift that you'd like to present in a more personalized way. I have a general tutorial for a reversible drawstring bag, and one that is specifically for champagne bottles (though it works for ordinary wine bottles as well, or other tall thin items).
What are your favorite quick handmade gifts?