This month we're exploring ideas for worn out or damaged clothing.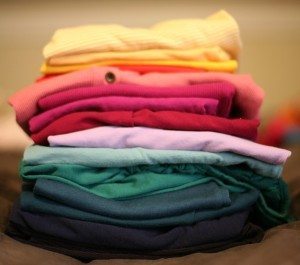 Of course you can simply use them as fabric, as in the t-shirt quilt or this flannel infinity scarf made from PJ pants. A little more specific to the clothing but still really just using it as fabric are the famous t-shirt market bag and the less famous but lovely jeans-leg apron. Scrap Users might be a useful resource for this; the t-shirt quilt link and a few of the links below were on that page before its remodel, inspiring this topic.
Cutting clothing into strips is popular and versatile. T-shirts are a common target, since they are stretchy, but firm when several strips are put together. They're good for bracelets, headbands, and belts. Here's a macrame t-shirt bracelet and a braided belt from t-shirt strips. I saw a photo tutorial for making a seat cushion from long, wide strips of fabric (it may have been sheets, but t-shirts would work). I couldn't track down the original, but it was essentially a large-scale friendship bracelet with the strip ends tied around the posts of the back of the chair. If you have enough clothes you can make a rug, whether that be shag, braided, woven, or knotted.
You could design endless variations on these themes, and I have some links to help you do so: T.J. Potter has my favorite collection of braiding instructions. You may also find macrame, boondoggle, and friendship bracelet resources helpful.
I find it a more interesting challenge, though, to think about using clothing for its characteristics as clothing. You can recombine clothes into Frankenstein's wardrobe, as in these girls' shirts (though only one of those fabrics was a shirt originally). I have seen shirts for men made from two or three contrasting shirts cut apart along the same lines and recombined, often with some kind of trim along the new seams, but have been unable to find any online. Simpler versions of that idea can be found in this Two-Face costume, straight-yoked shirt, and heart-yoked shirt, and art smock. For more ideas you could start searching for images of bowling shirts, rockabilly shirts, or colorblock shirts.
Dress shirts have so many distinctive features they are a natural choice for these sorts of projects. Here is a little girl's dress from man's dress shirt; the back is the sleeves, opened out and hanging from the cuffs, and the front of the dress is the shirt's back, so the yoke is a bodice panel. These baby bibs are made from both dress shirts and t-shirts. The cuffs from an adult-size button down shirt can be made into a small wallet. [Her folding instructions are rather vague. I would say, button the cuff, flatten it so the end of the button side is tucked right into a fold near the buttonhole side, pin near the resulting fold at the opposite end, unbutton and sew.] Last but not least, Between the Lines has a guide for making a toiletry bag from a dress shirt (and some linen), using the body of the shirt to line the bag so that the original button front is a button closure at the top of the bag, and adding various features of the shirt to the outside of the bag as pockets and hanging straps. It's quite lovely and she tries to give all the information you need to adapt it to a different shirt from the one she used.
The distinction of sweaters is the kind of material and the ribbing that typically appears at the cuffs and perhaps at the hem. You can use the sweater body to cover a pillow or sew mittens; with the addition of a cuff you can make a cute wine bottle holder. The sleeves are a natural for leggings and boot socks.
No discussion of repurposing clothing would be complete without jeans. The hems and topstitched seams can be turned into coasters, if you have enough of them. The top portion can be turned into a tote bag (I did this once – scroll down), or just the back side into an apron, with cleverly added pocket. A lunch bag can be made from the leg, and a similar bag could be made with other pants, or even the sleeves of a blazer or coat.
What have you seen that ought to be on this list?