Long ago I made crochet covers for my Swiffer sweeper, but I never got much use out of them. They were not as thorough at sweeping as I would have liked, and the normal Swiffer sheets are terrific at their job. That sweeper finally kicked the bucket and I got a Swiffer Wet Jet, unaware that it would not be able to hold the sweeper sheets. Well, for sweeping I've gone back to a broom and dustpan.
For mopping, though, I'd been using the Swiffer pads. They are much less good at their job than the sweeping sheets, but my regular sponge mop, which was supposed to squeeze out by folding shut like an alligator mouth, was no better and a lot more aggravating. What to do? Make new pads for the new Swiffer. I thought a smooth flat cotton pad with some acrylic slip-stitch stripes for scrub would work well. I also used acrylic for the upper part to hold it on to the Swiffer, though that choice was more to use up acrylic than anything else. The pad is also held by the velcro on the bottom of the mop.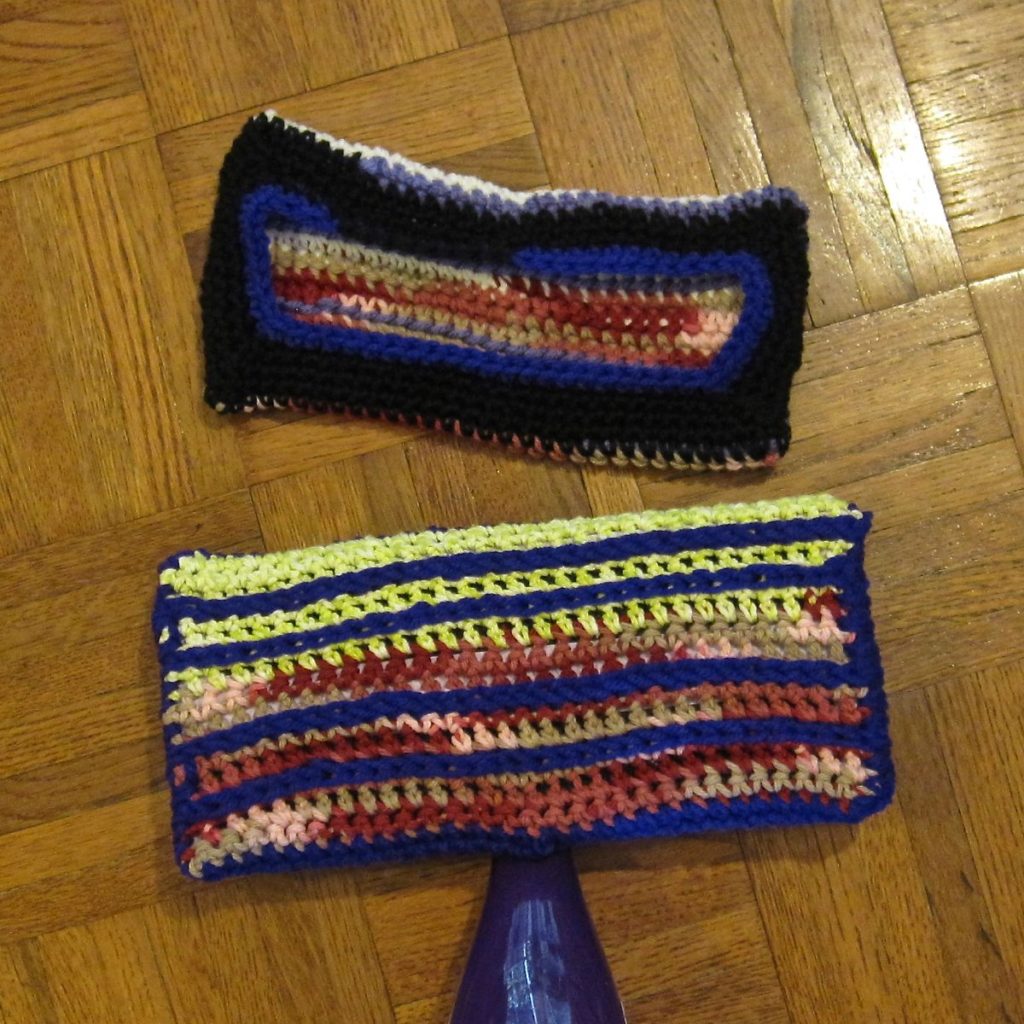 I started by making two of slightly different size for testing: one that was the full 10.5″ by 4.5″ of the Swiffer itself, and one that was a scant 10″ by 4″. After testing I went with the larger size pattern but dropped a hook size. Size isn't as crucial as with the sweeper because of the velcro on the bottom.
I soon realized they work much better after multiple washings, so for the remainder (I wanted 5 for the five rooms I mop, plus two spares) I made the cotton panel, put it in the laundry, added the acrylic stripes and upper sleeve, put it in the laundry again, and then put it into service.
My pattern
Your needs may be different depending on gauge! I use a G/4.25mm hook, but also seem to crochet more loosely than average. You may want to change hook sizes, stitch counts, or both.
I make the panel in cotton and the slip-stitches and upper in acrylic. This is mostly to use up acrylic, so if you want to use all cotton, go ahead.
Cotton panel:
Chain 31; make 14 rows of 30 sc. Wash this panel.
Scrub stripes:
Slip-stitch across in the valley between rows 3 and 4, 5 and 6, 9 and 10, and 11 and 12.
After a couple of panels I started slip-stitching from one row end to the next instead of stopping and starting each time.
If you run out of yarn slightly before the end of a row, don't worry about finishing it. It's not that important. I do find, however, that these stripes successfully catch gunk, so I wouldn't leave them off.
Upper cuff:
Starting in the middle of a long edge, join yarn with a sl st, ch 1, and sc around the entire panel.
Join your round when you get back to your starting point and chain up for another. Make four rounds in which you decrease by 2 stitches in each corner. I accomplish this with what I call sk-dec, "skip decrease": make a regular sc dec but skip a stitch in between the two loops you pull up at the beginning. This takes out two stitches at once with less bulk than sc3tog.
Join your final round and finish off. Wash again!