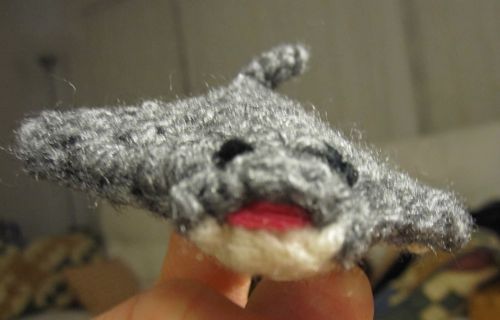 Hi there!
An early crochet effort of mine was trimming Roman Sock's manta ray pattern down into a finger puppet, because I lack the attention span to do the full project. I have six rows of the full-size version, waiting.
For those of you who wish to follow suit, I believe I used an F-hook, though gauge isn't important, and acrylic worsted-weight yarn from Jo-Ann's – nothing fancy.
Working from the original pattern (crochet abbreviations):
gray side has 2 rows of 3 sc for head, and 6 rows with sc inc on each end for wings.
base of tail is 3 sc wide, has a second row of 3 sc and then decreases by omitting turning ch; when you get to 1 sc, ch 7.
sl st from there down the tail and to the tip of the wing, and then from the base of the tail on the opposite side (omitting the ch-7 part) to the opposite wing.
In cream I left out the tail.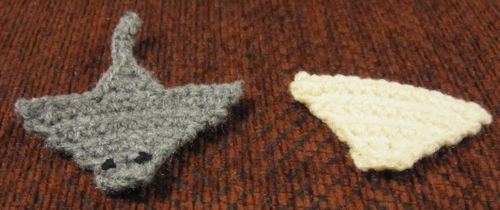 After embroidering the eyes with black embroidery floss, I used pink embroidery floss to whipstitch the two halves together on the inside of the mouth, then wound the floss horizontally around those stitches (in place of Brie's pink felt, which would never fit in a finger puppet). Then I slip stitched between the side of the mouth and the base of the tail on each side to finish connecting the halves.