I began crocheting in November of 2010, during a bout of insomnia, and made piles of hearts and goldfish. However, reading about crochet done with plarn ("yarn" made from plastic bags), old cassette and video tape, and strips of t-shirts made me think yarn was boring. Ribbon was promising, but I had no projects I wanted to make with it. Futuregirl wrote about crocheting with ordinary sewing thread, and I began roaming around my sewing room. Ultimately, I picked up my box of off-brand embroidery floss and the largest of my steel hooks (1/2.75mm).
I began ambitiously with Roman Sock's pocket elephant. Legs of three obviously different diameters and Neanderthal brow ridges caused by upside-down safety eye backings give him character. Since then I have rarely been without an embroidery floss work in progress. Recently I got all my little guys together for a family photo. Click for a larger version; patterns linked below.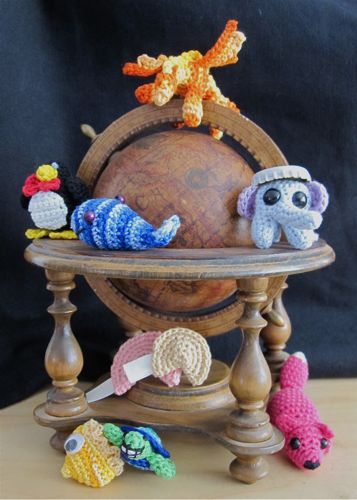 Top to bottom, left to right:
mighty & ferocious dragon, penguin ornament (feet freehanded by me), tiny whale, pocket elephant, Lion Brand fortune cookie (pink; registration required), Alicia Kachmar fortune cookie (beige), fishhead (freehanded by me), mini turtle, Falwyn's little fox.

I had to increase the size of the turtle body to match the shell, though I had no such mismatch in yarn. Contradictorily, my fox is a fat little sausage. Stitch proportion tests will be made and reported on.