Intermittently I cook and bake items of varying fanciness.  I will review some of my favorites four times a year (regular feature!  extremely infrequent, but regular!).  Conveniently, the blog began right at the start of the second quarter of the year.
One of the themes of this spring was "use it up!" I discovered I had an unreasonable number of open jams and jellies. In addition, I had a little bitty can of chestnut spread a friend brought me from Paris about two years ago, and I had just left to sit decoratively on a shelf in the kitchen. The solution was clearly thumbprint cookies. One pan took care of the chestnut spread, and the other an altogether too small quantity of jam (raspberry, apricot, and pineapple macaroon).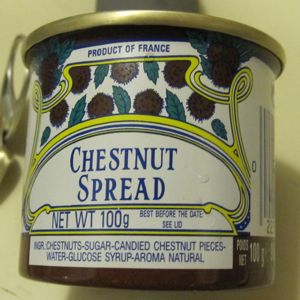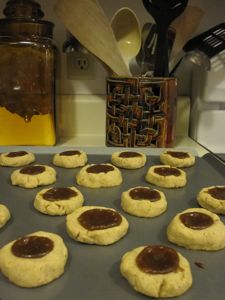 Later on, nearer to Easter, I made a coconut cake with cream cheese icing, with extra coconut and Jordan almonds on top. The speckles are dried orange peel: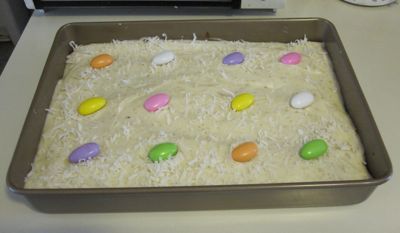 There are mini chocolate chips inside: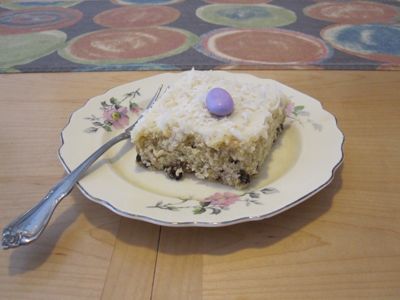 The problem I have with baking is that it tends to become breakfast for the immediate future.
One meal experiment that was not particularly photogenic was black bean and mushroom burgers. I had dried shiitake mushrooms I bought who knows why (I'm not a fan of the non-portabello mushrooms, generally), and I soaked them and mixed them with bread crumbs, oatmeal, rinsed canned black beans, lots of onion and some garlic, and a bit of avocado (the original called for cheese, and I thought this would save it from being dry in a bit more healthful way). Oh, they were good! But when you bit down on the bun, half the burger would squoosh out the opposite end – well, depending on the bun. I tried two brands and the second was better than the first in that regard. One friend said he'd had good luck with oatmeal as a binder, and it's possible I just didn't put in enough. I hated to take something so vegan (no fake meat or cheese, hence the "so") and put egg whites into it, which was a chef friend's suggestion. Another friend suggested crocheting the bun shut with noodles. Points for creativity!