I was raised by cats. To commemorate that, long ago I decided to rework a four-cat cross-stitch pillow design to represent the four most longstanding feline figures in my history. I traced the original designs, sometimes altering the features a bit (to give Snowball her very round eyes, for instance), and changed out the colors almost completely. That latter involved a lot of staring at photos and my DMC thread card.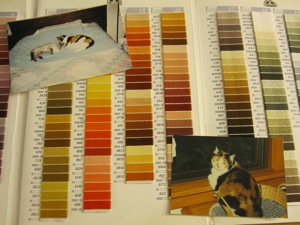 Of course, although I begin all four of them, I ran into troubles with accurate colors for one cat (Tabitha was basically done in watercolor; hard to match the subtle variegation with thread) and ran out of steam on two others. The one I completed is my sister's dearly departed O.D., originally our eldest brother's until he married a woman who is allergic to cats, then living in the family home, and finally sent to my sister in college in the Cat Diaspora when our father became allergic.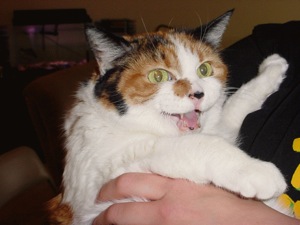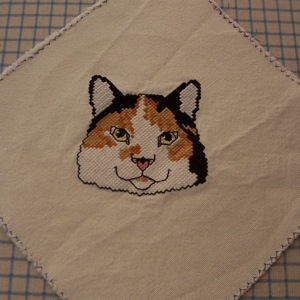 Framing stitched pieces is kind of a trick. A double mat might keep the glass from flattening the stitches, but I went with a shadowbox frame – a half-inch spacer between the glass and the image. I think this is actually the first time I've ever framed a piece of stitching in a proper frame.