Today is my 100th post on this blog. That includes the little nothing posts, of course, but I'm still going to count it. A little trip down memory lane: Post 10 was about amigurumi two peas in a pod, post 25 was about mending tears, post 50 was an early sketchbook update, and post 75 was the notice that my regular post, about science fiction embroidery, would be up later than usual. All of this unless I miscounted, of course.
Today I'll share with you Craft Countdown item #6. It occurs to me this one was also not completely from scratch, as I had made the tracing and transferred it to wash-away embroidery paper prior to New Year's Eve.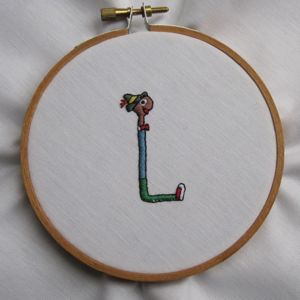 If you don't know who that is, get thee to a library or book store and look up Richard Scarry, who owns the copyright. I couldn't relocate the specific source of this particular Lowly Worm image, unfortunately, and the colors I'd written down didn't really make sense to me, so I used a mishmash of the colors from the books I did have accessible. This was easily the most time-consuming of the ten projects, but well worth it.