May's Amigurumi Army mission was flowers. Actually, the week from Apr 28 to May 4 in Iron Craft was also flowers, but I did not complete anything in time. I had a sad half-done daylily on my end table for half the month.
Finally I decided to go for it, finished the daylily, and made a flower that I intended to be a carnation but which may have ended up more like a small rose.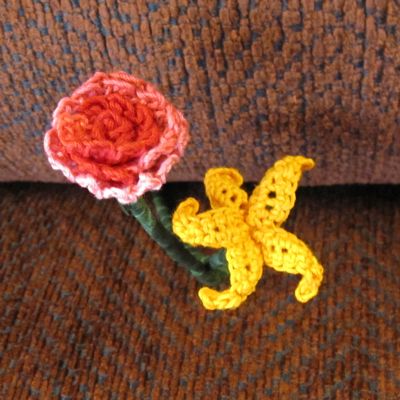 Patterns! Note that both flowers involve stopping or turning in the middle of a row. Abbreviations are explained here.
Rose or Carnation:
In any plausible color. (which with dyed carnations is pretty much any color)
– ch 37
– sc in second ch from hk, (ch 2, sc) five times, sc 30, ch 2, turn
– hdc 18, sc 12, ch 3, turn
– sc, (ch 3, sc) eleven times, sc, (ch 4, hdc) seventeen times
– ch 1, sc down side edge, FO.
– Roll up starting with narrow end.
Daylily:
make 5 in orange, yellow, or desired color.
– ch 10, sl st in second ch from hk, sc, hdc, sc 5, sl st
– ch 1; on opp side of starting ch: sl st, sc 3, sl st
– FO. Sew together overlapping each petal on the previous. To match real daylilies, the first petal should be completely on the top and the last one completely on the bottom.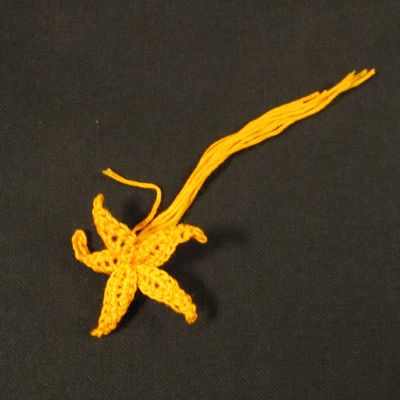 After sewing the flowers together I wrapped the loose floss ends around pipe cleaners and wound them with florist's tape.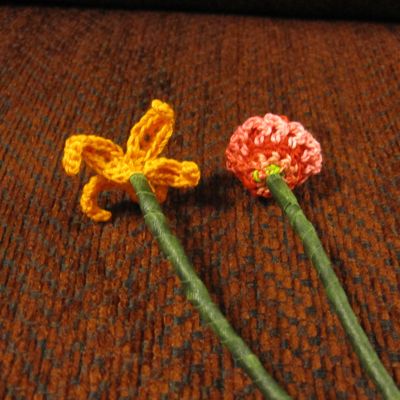 Meanwhile, I joined another monthly crochet challenge group on Ravelry, and their May theme was food. I had previously made a lemon and an apple, but my food crochet was pretty limited. I couldn't think of what to do, until I realized I'd never made a cupcake, which seems to be the canonical crochet foodstuff. I freehanded one over the course of two days. Afterward I discovered I couldn't find any pins with plastic ball ends (nor the tomato pincushion I think they were in…) to be sprinkles. I did, however, know where my leaf-ended pins were, so I made another rose to top the cupcake. The one I made sure to sew so the bottom was a flat disc, not too tight, and then fluffed out the petals a bit more.