One of my earliest embroidery floss crochet projects was Roman Sock's instant crochetification elephant. You can see my first elephant in my family photo. It is now in the keeping of one of my cousins. After learning a friend's younger brother had pronounced it "elephmints" as a child, I decided to make some elephmints. I thought it would be good practice for color work. And it was, though I delayed making them so long that I'd gotten other practice for color beforehand. Anyway, here they are!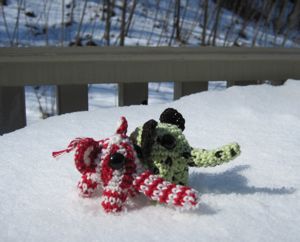 Starlight Elephmint was started in January and completed last weekend. I had to change the pattern because originally the initial rounds are multiples of seven stitches, which wasn't going to work well for a starlight mint pattern. There was a lot of color changing and the floss skeins were thoroughly twisted together when I finished. The trunk and legs are not made by color changing, but by adding one color in the middle of a round and then working alternately with each, stitching as far around as possible with one before switching to the next, as in the last of my mother's potholders. I also changed the ears to magic rings with ch 2, 8 dc in ring, ch 2 and sl st into ring; join new yarn to ring and ch 3, sc across (which somehow became only 7 sc?), ch 3 and sl st to ring; tighten ring. They aren't as big as they could be; I'd probably do some sc inc across if I did it over. His tail is a chain stitch with one strand of each color, slip stitched on and with an overhand knot at the end.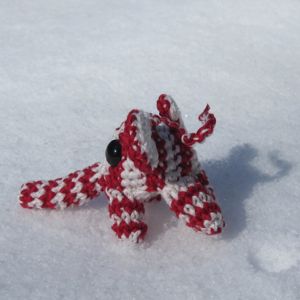 The one I think came out much better, Elephmint Chocolate Chip, was completed in December. My multipacks of cheap floss included a good mint ice cream green, but I bought the dark chocolate brown specially. There were no changes to the pattern here (except I did the ears as magic rings with ch 3 on each end of the triples, since when I try to do them as ch 7s they get all pulled out of shape; this may be entirely the fault of working with embroidery floss). I simply threw in an isolated brown stitch every once in a while. It came out better than I could have planned – the effect is remarkably reminiscent of the little flat chips, square or sometimes shaped like half a log, that you find in mint chocolate chip ice cream. His tail is two strands of brown, threaded through his behind so they end up doubled, and overhand knotted at the base and the end.