I wanted to make Lion's "Two Peas in a Pod" amigurumi (registration required to see pattern) as soon as I saw it, but when does someone who's not planning a wedding or bridal shower have a reason to make an explicitly wedding-themed project? Well, as it turns out, when Iron Craft takes the British royal wedding as its inspiration and sets weddings as the theme of the week. Until I remembered this pattern I wasn't going to participate, since I have a number of wedding gifts to make but they are either already in progress or items I can't complete in a week.
I added some silver to the mix, in the form of a hatband and trim on the bridal veil. Crocheting with metallic floss gets a big thumbs down – the strands would either prefer to have nothing to do with each other, or they catch on each other. However, I am very happy with how it came out! (except perhaps for Mr. Pea's mouth.)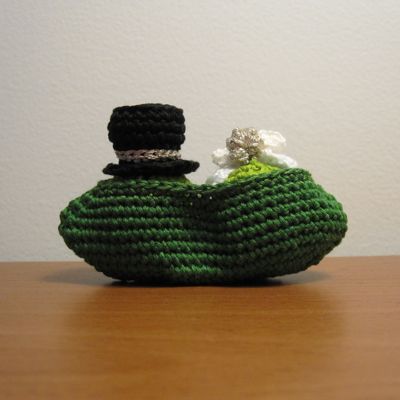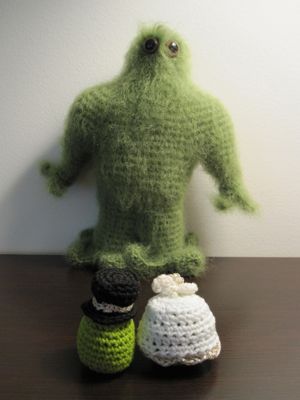 Stumpy got his one-day license for this.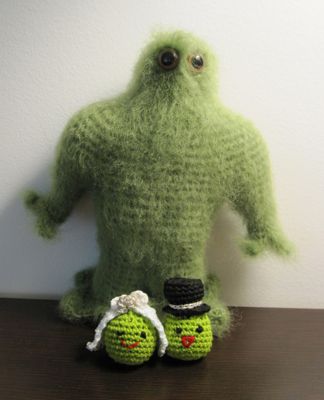 Smile for the camera!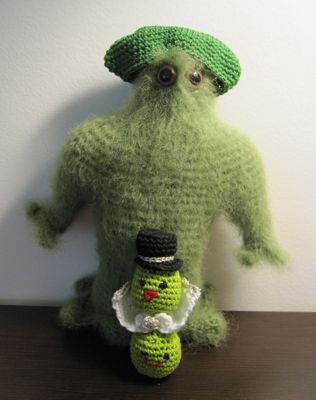 You always need a silly picture.
I made them grinning and winking because I wanted joy. Long ago I cut a 50th anniversary announcement out of the paper – they had used a wedding picture for the announcement, and happiness shines out of it.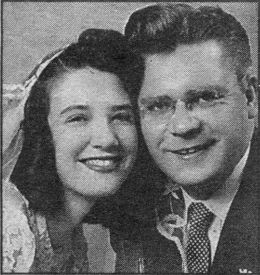 I cut it out as a reminder that unless I feel the way they look, I shouldn't walk down the aisle. Also, they're just darn cute.