I hope you have art galleries to go to! Last month, I was at Boston Logan airport looking at their two George Rhoads rolling ball sculptures. By the time this appears I will be at the Upper Valley Food Co-op's First Friday open house celebrating their 35th anniversary. The Sew-Op is having an open house in conjunction with it and we're hoping to lure people in to not only take classes, but attend open sewing hours and be teachers, teacher's aides, or open hours monitors.
Once again, if you don't have a gallery to go to, I've tried to provide a (sorely inadequate) substitute in the form of artistic links.
I have been pondering my upcoming Summer of Embroidery. I signed on to teach a beginning embroidery class in the fall, and am going to stitch a sampler this summer as part of the preparation for that. Expect a number of entries with bits of that as I finish. I have another project I'll be writing about soon, and have been inspired to try to put an image from a dream into solid form via thread painting and ribbon embroidery.
When I was looking up the examples above, this beautiful tree came up under thread painting. It's not that, but it is fiber art of the best kind.
Now that I've had a chance to process my photos, here's a great picture of Burly Hot-Pants at the wedding: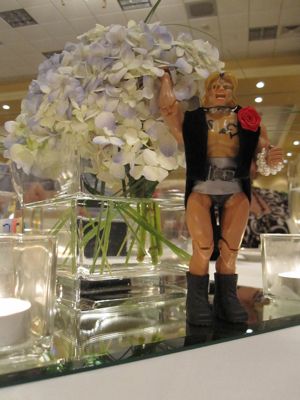 As for coming attractions…. well, I've been trying to make a summer hat for myself for a while now. I keep posting pictures various places in the hope that announcing the plan will induce me to actually complete it. I am midway through the design process, but not at all done. Here's one more announcement!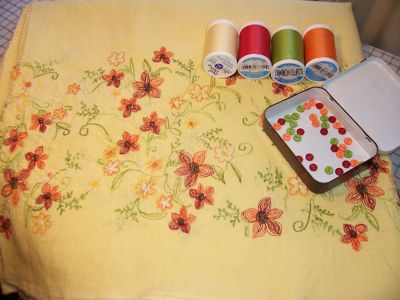 Instead of a second preview, I'd like to take a poll. My first "real" crochet pattern will hopefully be finished and posted soon; which of the following would you most like to see a crochet version of?