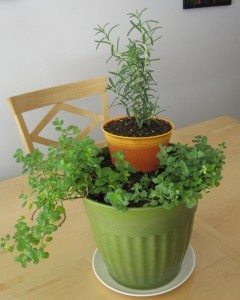 Welcome to the newly non-anonymous First Friday series! We're still snowbound here in Vermont, but last week I started craving spring and growing things. I struggle with lacking a yard, good sunlight, and a green thumb, but that doesn't stop me from trying.
The two-level herb pot pictured was the result of my craving: rosemary up top, sunk one or two inches into the soil of a pot containing spearmint and oregano. Since then we've started some vegetables, including a climbing spinach that I'm looking forward to seeing.
Of course what I really wanted (and resisted… for now) was something breathtakingly gorgeous. Let's peruse some options for small and/or striking container gardens.
Succulents are a large percentage of my houseplants because they are very forgiving. You can plant them in tiny containers, including corks and snail shells. Of course this reminds me of last year, when I planted a seedling in a little gelato cup and made the mistake of placing it somewhere I couldn't see from a distance. It is no longer with us. Now plant watering is on my to do list weekly, but the truly tiny containers still do not suit my gardening skills — which is a darn shame, because they are incredibly appealing.
If you get enough sun you can make wonderful collages or mosaics of many kinds of succulents in a single pot, or even in a wreath or hanging box (soil held in with chicken wire or hardware cloth). Chicweed features many such plantings in the container gardens category of their blog, including the one below.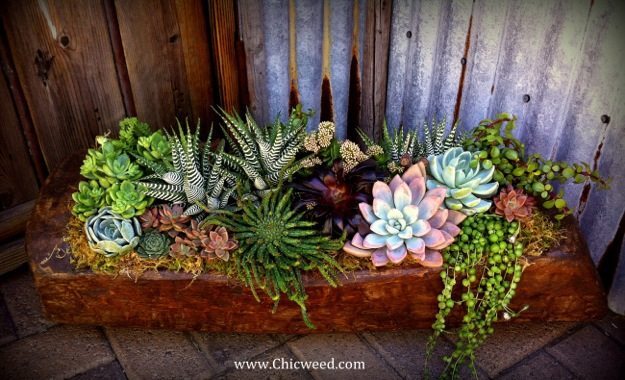 Photo used courtesy Chicweed
You can readily root succulents from cuttings, which I'm in the process of doing with some broken pieces I brought home from the garden center with the herbs. Martha Stewart has a photo tutorial. For continuing care check out Succulent Gardens and The Cactus and Succulent Society of San Jose.
Another plant suited to tiny containers, or to landscaping larger containers, is moss. The gallery at Moss & Stone Gardens shows some larger plantings. I love the way multiple kinds of moss planted together look like a distant aerial view of a full size landscape, such as in the planting below.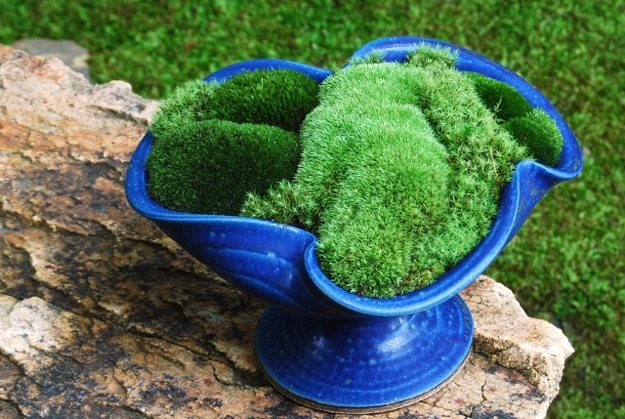 Photo used courtesy Moss & Stone Gardens
Moss is a wonderful cover for the dirt around other plants, and Moss & Stone Gardens has a large archive of moss growing advice.
To branch out into other parts of the plant kingdom, Drought Smart Plants has two posts about plants with scale suited to miniature landscapes and fairy gardens (and very fancy model railroad setups). One has photos but fewer plants, and the other has more plants and care instructions but no photos. The Miniature Garden Shoppe has a large gallery of fairy gardens, miniature landscapes, and other creative container gardens (submitted by customers – that is to say, many works by people who aren't plant professionals) that is enjoyable and inspiring to scroll through.
Finally, if you want something that needs literally no maintenance, you can make a faux terrarium, large or small (click that last link. You won't regret it).
---
This was another tricky First Friday post, though it was for a different reason than last time. Photos of lovely container gardens seem to become detached from their sources quite easily, and even searching by image may not reunite them. In the interest of giving credit, I've only linked to photos in their original locations.
Incidentally, if you want gardening advice tailored to your area, I recommend looking first at your state university system's cooperative extension. Unfortunately it doesn't always work – University of Vermont links to a nationwide resource for container gardening – but in bigger states you're likely to have luck. If you search on some combination of your state's name, "university extension," and "cooperative extension," you should turn up something (though it might not be the state university per se; in South Carolina, look at Clemson). Here are a few links directly to materials about container gardening: from Texas, Ohio, Arizona, and two from Maine.