Beginning a monthly (or perhaps twice-monthly) craft night at the Sew-op gave me the urge to sew up a travel craft case that was more of a hussif than a bag. This was the spur for making my host of little felt patches, since I wanted one instead of a cushion for needles and pins. After I finally set out to work on it, it didn't take too long to get this:

I chose the felt for it based on liking the color contrast and shape of the patch. After that, by coincidence, I found I had both bright green buttons (from my late grandmother's stash) and bright green elastics (the cut off ends of no-tie shoelaces). The denim is the last remains of my wedding jeans, including the coin pocket.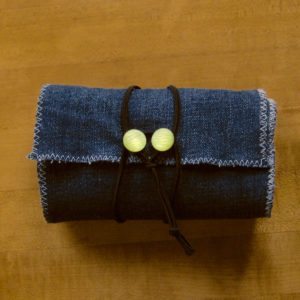 It is messy and where the elastic ends are stitched down there are wads of top thread on the wrong side, but it works for me. The main body is three 6″ x 9″ pieces zigzagged individually, butted end to end and joined by zigzag, and then zigzagged around collectively in a sort of double figure 8. Everything else is stitched flat on top of that. The inside button that doesn't hold the felt is mostly there for decoration; I don't know that it accomplishes anything in terms of holding in the scissors. I may find a use for it later. The elastic that holds it all shut has two knots so it can be strapped around the roll at multiple sizes – tuck four full-size spools of thread into the innermost end and you'll need a longer strap than with a few embroidery floss bobbins.
I always seem to have more than enough crochet to fill the evenings my husband and I spend hanging out and doing nothing, so with some exceptions embroidery and hand-sewing get postponed indefinitely. I'm hoping craft nights will help me get through more of my handwork.