I wanted a corral for my little salad dressing containers for my lunches and thought I remembered coiled fabric bowls in my Scrap Users collection. That was not correct – there were bowls, but they required additional materials. I thought I could do without, though, and whipped up a little bowl. Now for the Sew-op sale coming up, I have a few more.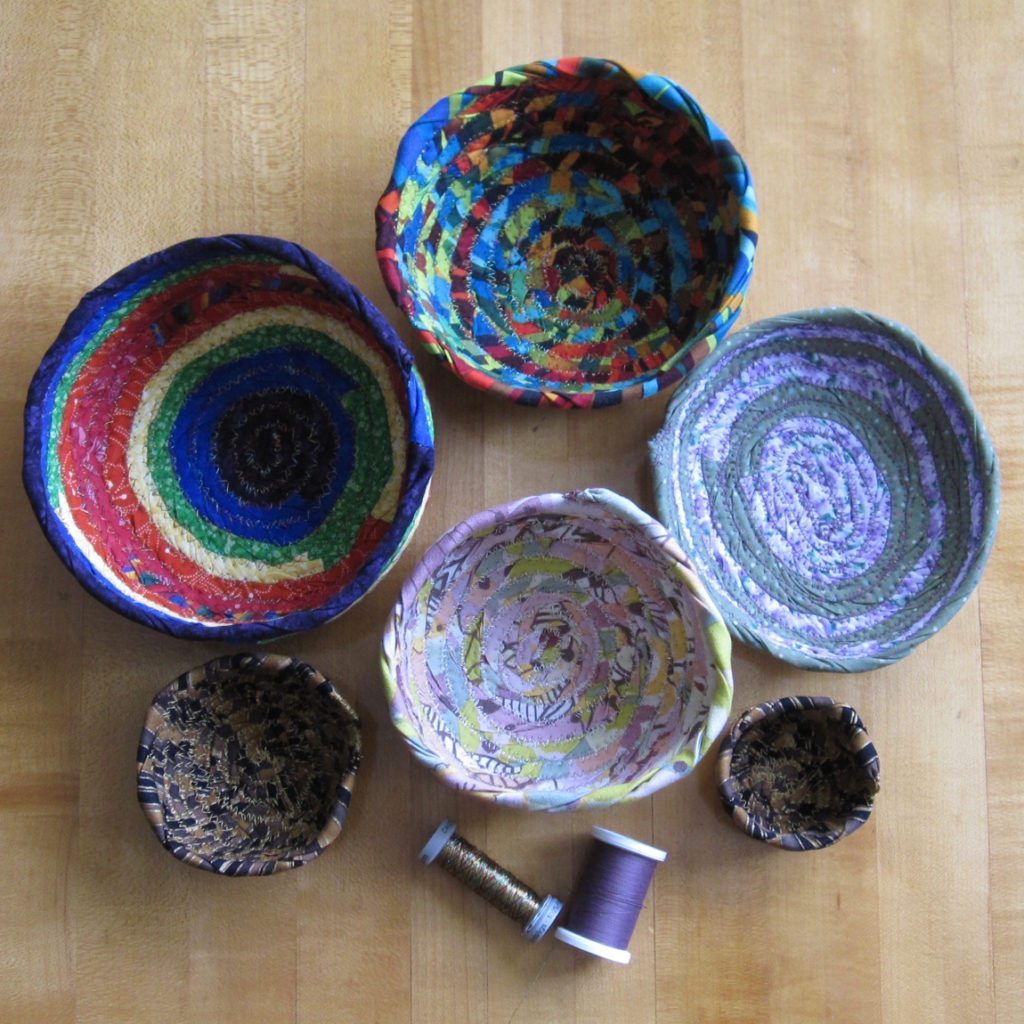 They're easy to make: four-inch-wide strips of fabric, joined end to end with 1/4″ seams, seams pressed open and then raw edges of strips hidden in two steps. First, press the strip in half the long way, wrong sides together, and then fold the raw edges into the crease and press again. Twist the strip and coil it like a braided rug, sewing the rounds together with a wide zigzag.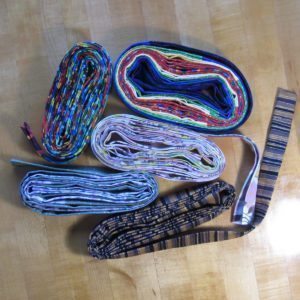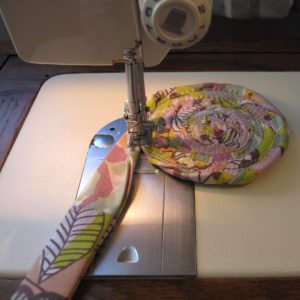 The direction of coiling shown above is easier, so that the main portion of the bowl is under the arm of the sewing machine. There's more room to work that way for the next step.
When the bowl is nearly as big as you want, hold the flat of the bowl up at an angle to join additional rounds. Eventually the base of the bowl should be nearly vertical.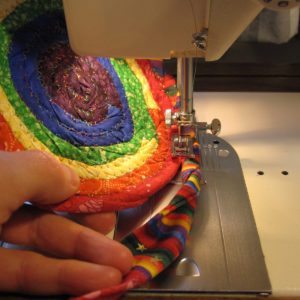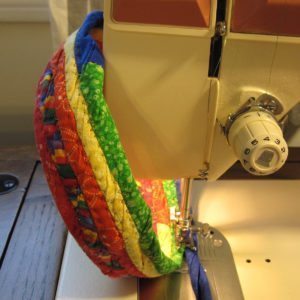 Once I got out to the end I turned around and sewed right back to the middle again, to make sure it was fully secure. There were skipped stitches and places where I was too off center to grab both strips, so going around a second time accounted for both of those.
I don't have a formula for determining strip length from desired bowl size, but I did record the lengths that went into these bowls.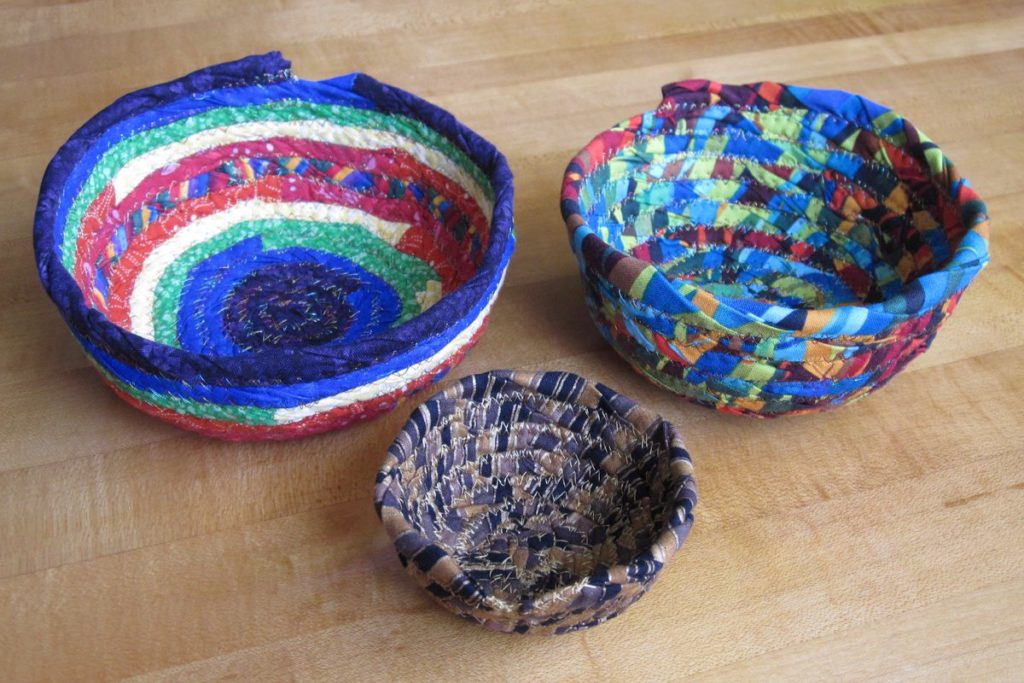 The rainbow bowl was the largest, coming from a 5 yard 4 inch strip. It's also lopsided; like throwing pottery on a wheel, getting symmetry with these takes some practice. The bright stripey bowl was from a 3 yard 27 inch strip, and this brown striped bowl was from a 1.5 yard strip.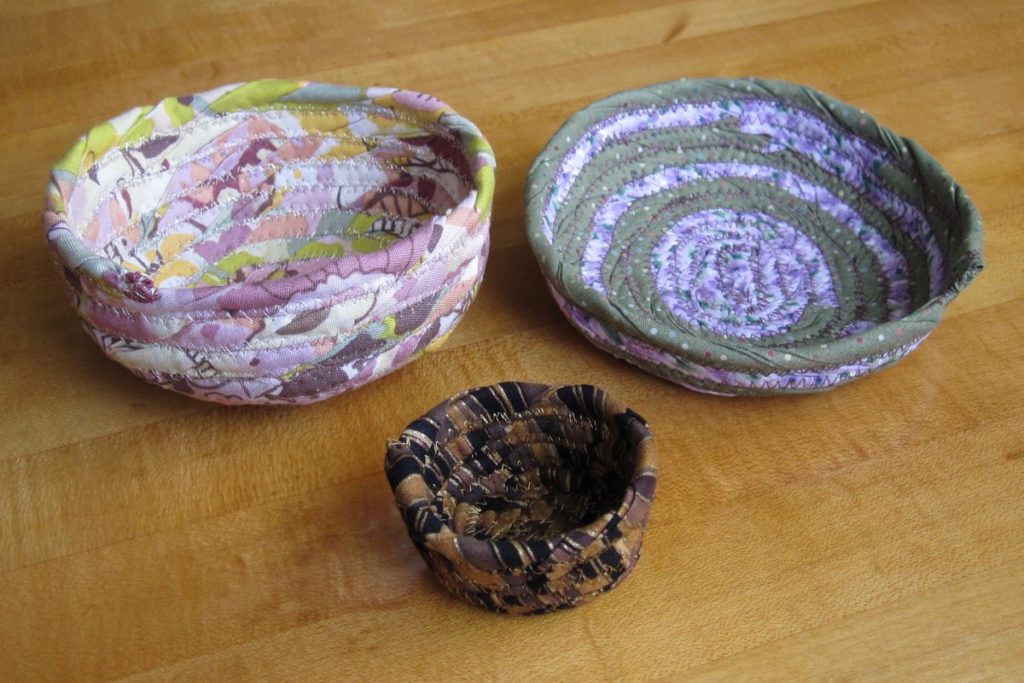 This brown striped bowl, on the other hand, was from a not quite 1 yard strip. The purple and green bowl was 3 yards 11 inches, and the pinkish floral was 3 yards 8 inches.
I also learned in my sewing that while Gutermann's metallic thread isn't bad at all – though it does have all the usual tangly problems – Sulky's metallic is impossible. It gave me profoundly high tension without even putting the presser foot down and eventually I just gave up on it.