Are you looking to give something sweet and personal and handmade to your sweetie, but lack hours to spend on it? A little fabric heart charm tucks into any card and is quick to make.
You need fabric and felt in coordinating colors, fusible web such as Stitch Witchery, coordinating thread for your sewing machine, and, if desired, embroidery floss or other added decorations. You'll be making two fusible-web-backed hearts of fabric and sandwiching some felt between them.
If you want to embellish the individual sides with embroidery, do that first. You could do hearts, of course, or flowers, a smiley face, initials, a pet name, words like "love" or "be mine", silhouettes, or even an arrow going through the heart (which might take some planning to line up right).
Second, draw or trace two matching hearts on the paper of the fusible web (I have a pdf of sample heart shapes for you). Make sure they are mirror images to each other! Cut them out and steam iron to the wrong side of your fabric, centering your embroidery underneath, if any.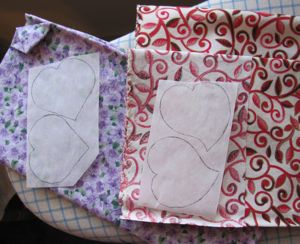 Cut out the fabric and peel off the paper. Iron one heart onto coordinating felt, cut out the felt, and then iron the other fabric heart onto the back. You may cut the felt flush with the fabric edge, or leave a little margin. I did one of mine on two colors of felt, the line between the colors joining the center top and bottom point of the heart. That would perhaps have been more effective had I left a margin of felt around the fabric; it is a very subtle effect. The other heart I cut out with pinking shears, which did not do so well on the felt but did well enough.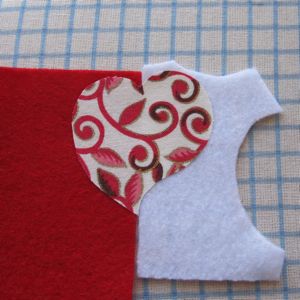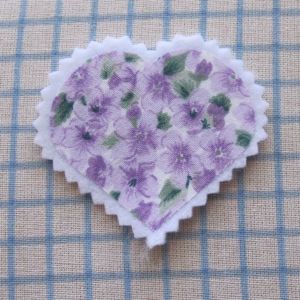 Finally, machine stitch around near the edge, or whip stitch by hand. This is an optional step, since the fusible web should keep everything together, but makes for a sturdier finished product. It also frames any embellishment you added and provides more visual interest if you did not add any embellishment. If your embellishment goes clear to the edge of the heart (for example you lined up an arrow so it would go right to the edges) you could skip this or make two partial lines of stitching, stopping short of your embellishment on either side.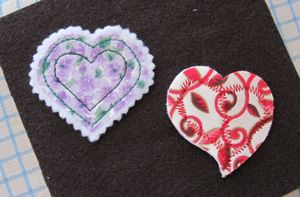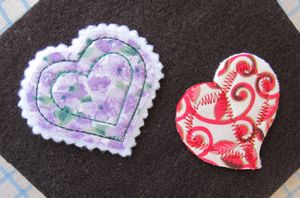 On the violets heart, I couldn't decide which of my two coordinating green threads I liked better, so I put one in the bobbin and one on top. I stitched around twice with my presser foot lined up with the edge of the felt, and then flipped the heart over and stitched around twice again with the presser foot lined up with the first line of stitching. On the red heart I used one of my special zigzag stitches to try to echo the design of the fabric. I also have a special zigzag that looks rather like an EKG and would be a great choice for this project. On both hearts I steam ironed once more after stitching, in an effort to have the fusible web also fuse to the thread and hold it in place.