In this space would usually appear my entries for the monthly crochet challenges I'm part of on Ravelry. However, I didn't make it this month. Between travel and finishing my wedding gift potholders, I didn't succeed in finishing either the Amigurumi Army's June mission or the June CAL from Ravelry. Actually, I can't entirely blame that; I also crocheted a dustrag and a third Swiffer sock. However, I wanted to finish the projects anyway, so I used the grace period between month's end and this post to work on them. One was finished, on one I declared bankruptcy because I have higher-priority items. It will appear later.
The one I finished was for the CAL, with the theme of animals. I had been wanting to make Kristie's Kids' little mouse (the designer of the pig I indentured earlier) and these monthly challenges are providing me impetus to get through my TBC list (to be crocheted, analogous to my sister's TBR(ead) pile). I worked, as usual, with my 2.75mm steel hook and six-strand embroidery floss.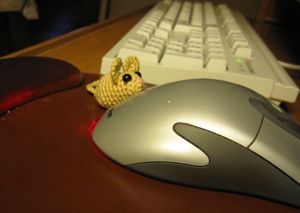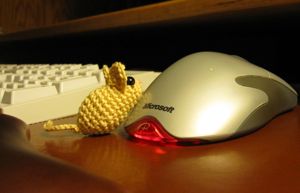 While visiting friends, I made a couple of small things – or at least started them. The one I completed had the highest honor of making it into their middle daughter's Cinderella purse. I don't know what he is, but the bird wings were the suggestion of their oldest daughter, and I think he at least turned out cute.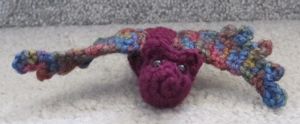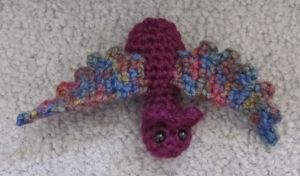 With him, I had some inspiration for a better way to do small ears. Say you have 12 stitches around (as I did) and the ears are roughly halfway. To make the ears, sc 4, (sc, ch 1, dc, ch 1, sc) all in FL of next st, sl st in FL of next st, and repeat () in FL of next st. Sc 5 to get back to the beginning. For the next round, sc 3, sc in BL only of next 5 sts (this is the BL of the previous round's st for the first and last, and the remaining loop of the ear stitches in between), and sc in both loops for the last 4 sts. I found the ears stood up more easily with the addition of the BL stitches on each end.
I then started on a teddy bear, using dc bobbles for the ears. My first attempt was a bit microcephalic, so I made a new head and produced the following. Both this and the winged thing were made with worsted weight yarn and an E hook (3.5 mm).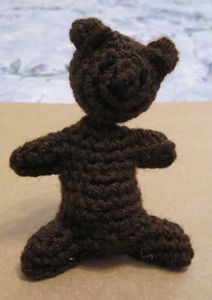 Finally, sitting in from of my parents' television one day I made a bunny, from a pattern I believe I may have downloaded before I even knew how to crochet. Although it is very soft and squishy, the 22% wool of the yarn is too much for me, and it makes me itch even through my shirt. 🙁 Someone else will have to love it. This one was made with bulky yarn (Sensations Angel Hair) and an I hook (5.5 mm). I made a 4dc bobble for the tail but you can't see it in either picture.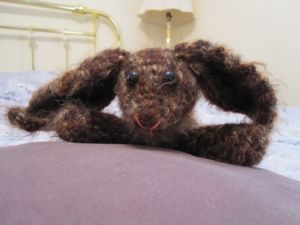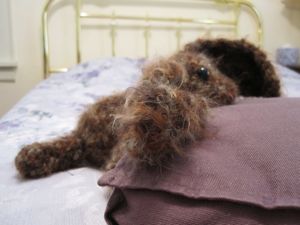 A bunny tail is called a scut or a fud, according to my mother's crossword dictionary.
The Amigurumi Army theme for June was mythical creatures, and I am halfway through a project, but I have some other projects with deadlines and travel upcoming this month, so it will appear in a later post.